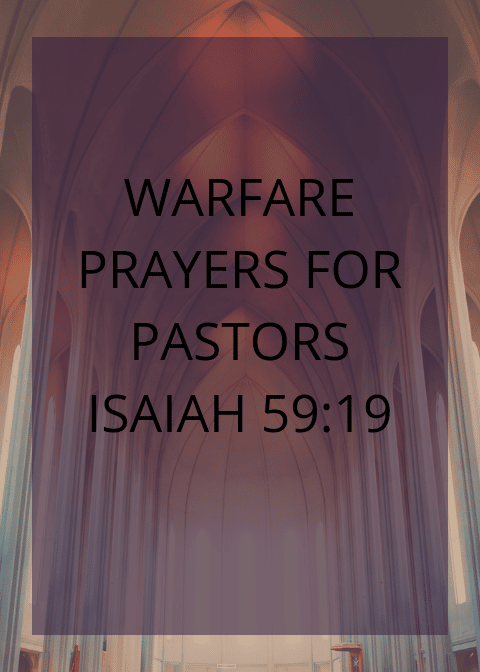 Isaiah 59:19:
19 So shall they fear the name of the Lord from the west, and his glory from the rising of the sun. When the enemy shall come in like a flood, the Spirit of the Lord shall lift up a standard against him.
It is warfare time, child of God, the devil does not respond to dialogue,he has no regard for peace talks or diplomacy, the devil only responds to resistance, James 4:7. Today we are going to be engaging 20 warfare prayers for Pastors. This warfare prayer points is very vital for your dominion over demonic agents and spirits. Nobody dares to challenge a warrior, you are a conqueror in Christ Jesus . This warfare prayer points will fortify you , ministry, and your entire church members spiritually, it will shield you and your household from all forms of demonic and satanic attacks, as you engage this warfare prayer points, you shall be taken the battle to the camp of the enemy and the shall flee at the presence of God in your life.
Today's warfare prayers for pastors shall be focusing on countering satanic attacks in your ministry. Every satanic attacks targeted to you and your ministry shall return back to the sender in Jesus name. You are going to be attacking all your attackers today,everyone that is working against you, everyone that says you will not prosper in life, today the shall see the wrath of God against them in Jesus name. No peace for the wicked, every wicked one fighting against your progress in life, they shall all be destroyed in Jesus name. I love warfare prayers it brings the enemies to its knees, you don't need to know the names of your enemies, God knows them, as you are praying this prayer points, God will arise and scatter them all in Jesus name. Pray this prayers with strong faith today and watch God scatter all your attackers in Jesus name.
Prayer Points
1. Father, i cover myself and entire family with the blood of Jesus and stand against any power that is resisting you in my life in Jesus name.
2. Any satanic agent pretending to be a counsellee in order to project evil into my life, be disgraced, in the name of Jesus.
3. Any spiritual arrow I have prayed out of anybody that is now in my family, i return you back to your sender, in the name of Jesus.
4. Any demon of marital bondage the Holy Ghost has ever used me to cast out of peoples' marriages before, now oppressing my marriage, i bind you in everlasting chains now in the name of Jesus.
5. Any demon of infirmity in my life or in my family as a result of my ministering to people possessed of it, i bind you now and cast you into the bottomless pit, in the name of Jesus.
6. Any household witchcraft the Holy Ghost has used my ministry to cast out and which is now affecting me or my family, I bind you now and send you to the bottomless pit, in the name of Jesus.
7. Any marine witchcraft rage against me and my family as a result of destroying their works in people's lives, be silenced by the blood of Jesus.
8. Any member of my family being oppressed by any familiar spirit that was cast out through my ministry, be completely delivered, in the name of Jesus.
9. Every spiritual wickedness in the heavenlies reinforcing against me and my ministry, be disgraced by the blood of Jesus.
10. Every monitoring spirit assigned against me to be watching for my unguarded hour, I blast you with the fire of God, in the name of Jesus.
11. Every assembly of local witchcraft formed against my ministry, receive baptism of multiple destruction, in the name of Jesus.
12. Any power working against me and my ministry, fall down and perish, in the name of Jesus.
13. Any power circulating my name for evil as a result of my ministry work, fall down and die now, in the name of Jesus.
14. Any satanic agent that is already in the sheepfold purposefully to watch and report me back to the evil world, be exposed and be disgraced, in the name of Jesus.
15. Let every ministerial hazard I have ever suffered be healed by the blood of Jesus.
16. Every good thing carted away by raging demon from my marriage, financial life and my ministry, be restored a hundred-fold, in the name of Jesus.
17. Any demon assigned to be frustrating my success at the edge of breakthroughs, be exposed and scattered by fire, in the name of Jesus.
18. Any power creating difficulties for me in the ministry, be scattered by fire, in the name of Jesus.
19. Any power creating disfavour and diverting my divinely appointed helpers, be suddenly destroyed, in the name of Jesus.
20. Every arrow I have ever fired out that was returned to me, go back with a hundred-fold strength, in the name of Jesus.
Father, I thank you for answering my prayers in Jesus name.