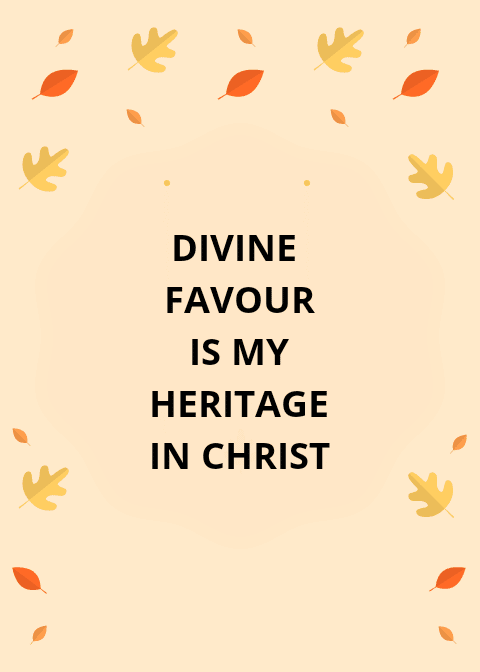 Psalm 103:8-13:
8 The Lord is merciful and gracious, slow to anger, and plenteous in mercy. 9 He will not always chide: neither will he keep his anger for ever. 10 He hath not dealt with us after our sins; nor rewarded us according to our iniquities. 11 For as the heaven is high above the earth, so great is his mercy toward them that fear him. 12 As far as the east is from the west, so far hath he removed our transgressions from us. 13 Like as a father pitieth his children, so the Lord pitieth them that fear him.
I love this song; 'Jesus loves me this I know' that song reminds me of the unconditional love of God in my life. Today we are going to be looking at 10 powerful prayer points for divine favour. Favour simply means Gods partiality towards His children. The truth is this, the title of this post is kind of misleading, we don't pray for divine favour as Gods children, rather we walk in divine favour, we are Gods favourite children therefore His endless, boundless, and unconditionally favour surrounds us constantly. Then why did I use the above topic instead? Simple answer is to get as much traffic as possible, this is because most believers think that they must beg God for His favour, they believe that God only favour certain of His children and refuse to favour others. They also believe that favour is a thing of merit and not unconditional. These are wrong believes of favour. Before we go into the prayer points, we shall be looking at some facts about the divine favour of God.
2 Biblical Facts About Gods Divine Favour
1). Favour Is Unconditional:  If it was conditional ,then it won't be called favour, favour is when God gives us what we do not deserve, David was made king by the favour of God, he never deserved it, he wasn't the best choice, at least not according to Prophet Samuel, 1 Samuel 16:1-13, 2 Samuel 6:21. God chose Gideon, not because he deserved it or that he was the best choice but favour picked him and made him the judge of isreal, Judges 6:11-23. We serve a God of unconditional favour, there is no amount of merit that can but Gods favour, God chose us in Christ, we didn't do anything to deserve it, He chose us, loved us and blessed us hallelujah.
2). Favour Comes To Us By Grace Through Faith: We are saved by grace through faith, not of our own efforts let no man boost about it, Ephesians 2:8-9. Grace simply means unmerited favour. Unmerited means its not a product of your own efforts or obedience. We receive Gods favour by believing in Christ Jesus. The day you believed in Christ, you became a candidate of Gods unending favour. Favour began to follow you everywhere you go. The unfortunate thing is that a lot of Christians do not realize that they are practically favored of God, they still go about crying to God to favour them, they keep praying and fasting for Gods favour, don't get me wrong, it is good to pray and fast, but favour is a product of faith and not of works. You must be conscious of the fact that you a Gods own favored child, He has showered you with his divine favour because of of Jesus Christ. Believe this and you shall see his favour always in your life. My prayer for you today is that as you believe the is words and pray this prayer points for divine favour, Gods favour will always be visible in your life in Jesus name.
PRAYER POINTS
1. I receive the goodness of the Lord, in the land of the living, in the name of Jesus.
2. Everything done against me to spoil my joy this year, be destroyed, in the name of Jesus.
3. O Lord, as Abraham received favour from you, I also receive Your favour so that I can excel, in the name of Jesus.
4. Lord Jesus, deal bountifully with me this year, in the name of Jesus.
5. It does not matter, whether I deserve it or not, I receive unquantifiable favour from the Lord, in the name of Jesus.
6. Every blessing God has earmarked for me this year will not pass me by, in the name of Jesus.
7. My blessing will not be transferred to my neighbour, in the name of Jesus.
8. Father Lord, disgrace every, power, that is out to steal Your programme for my life, in the name of Jesus.
9. Every step I take this year shall lead to outstanding success, in the name of Jesus.
10. I shall prevail with man and with God, in the name of Jesus.
Father, Thank You for encompassing me with your endless favour in Jesus name.