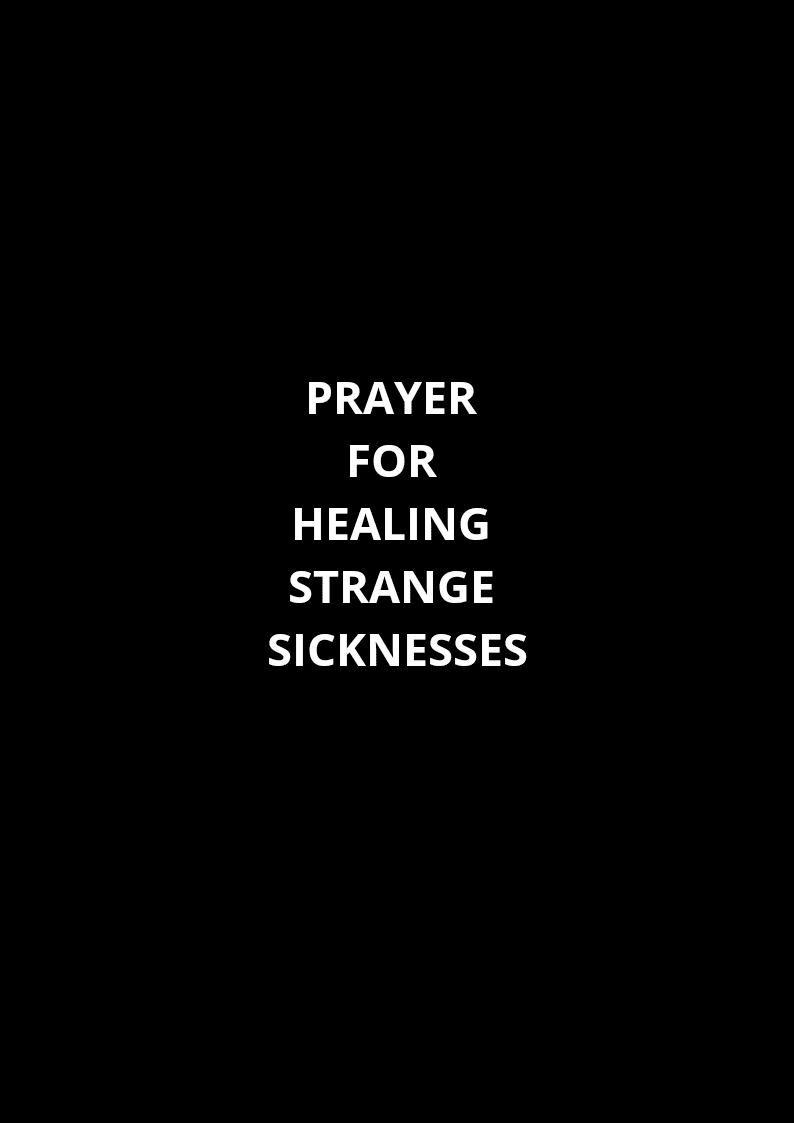 Job 5:12:
12 He disappointeth the devices of the crafty, so that their hands cannot perform their enterprise.
Not all sicknesses are from natural causes, there are many illnesses that are demonically engineered. Acts 10:38, tells us that Jesus Christ was busy healing all that were oppressed of the devil, that is to tell us that the devil is behind sicknesses and diseases. Today we are going to be engaging in prayer for healing strange sicknesses. In this healing prayer, we are going to be focusing on strange sicknesses, sicknesses that defile medical science. Sicknesses that the doctors cannot diagnose even after running several tests in their medical labs.
Such kind of sicknesses are called strange sicknesses, they are caused by spiritual poison, planted by demonic agents and witchcraft forces. When a person is suffering from a strange sickness, no medical expertise can save such a person, it doesn't matter how experienced that doctor is in his or her field. This is because, the sickness is caused by a spiritual force and only a spiritual force can cure it. We fight spiritual with spiritual. There are many people today, suffering from unidentified illnesses, even the doctors cannot explain it medically, these classes of sicknesses must be addressed with prayers.
Prayers is the force that brings down the supernatural into the affairs of the natural, when we pray in the name of Jesus, we release the power of God in us to destroy every plantings of the devil in our lives. This prayer for healing strange sicknesses will flush out every spiritual poison of the devil in the life of every sick person as it is prayed in faith. Nothing can be hidden from God. As you call forth the power of God through these prayer for healing, the anointing of the Holy Spirit will move through your body, destroying all the satanic poisons and evil plantings in your body in Jesus name. You can pray this prayer for yourself, for spiritual cleansing and you can also pray this prayer over a loved one and watch God cleanse that person in Jesus name. I am waiting for your testimonies.
PRAYER
1. My body, reject every poisonous arrow, in Jesus' name.
2. Every spiritual poison, that has entered into my system, be neutralized by the blood of Jesus.
3. Holy Ghost fire, purge away every handwriting of wickedness, in the name of Jesus.
4. Fire of God, burn to ashes every power programmed into my life to poison me, in the name of Jesus.
5. Every evil plantation in my life come out with all your roots, in the name of Jesus! (Lay your hands on your stomach and keep repeating the emphasized area.)
6. Evil strangers in my body, come out of your hiding places, in the name of Jesus.
7. I disconnect any conscious or unconscious link with demonic caterers, in the name of Jesus.
8. All avenues of eating or drinking spiritual poisons, be closed, in the name of Jesus.
9. I cough and vomit any food eaten from the table of the devil, in the name of Jesus. (Cough and vomit it by faith. Prime the expulsion).
10. All negative materials, circulating in my blood stream, be evacuated, in the name of Jesus.
11. I drink the blood of Jesus. (Physically swallow it by faith. Do this for some time.)
12. All evil spiritual feeders, warring against me, drink your own blood and eat your own flesh, in the name of Jesus.
13. All demonic food utensils, fashioned against me, be destroyed in the name of Jesus.
14. Holy Ghost fire, circulate all over my body.
15. All physical poisons, inside my system, be neutralized, in the name of Jesus.
16. All evil assignments, fashioned against me through the mouth gate, be nullified, in the name of Jesus.
17. All spiritual problems, attached to any hour of the night, be cancelled, in the name of Jesus. (Pick the period from midnight to 6:00 a.m GMT)
18. Bread of heaven, fill me till I want no more.
19. All catering equipments of evil caterers, attached to me, be destroyed, in the name of Jesus.
20. My digestive system, reject every evil command, in the name of Jesus.
Father, thank you for answering my prayers in Jesus name.