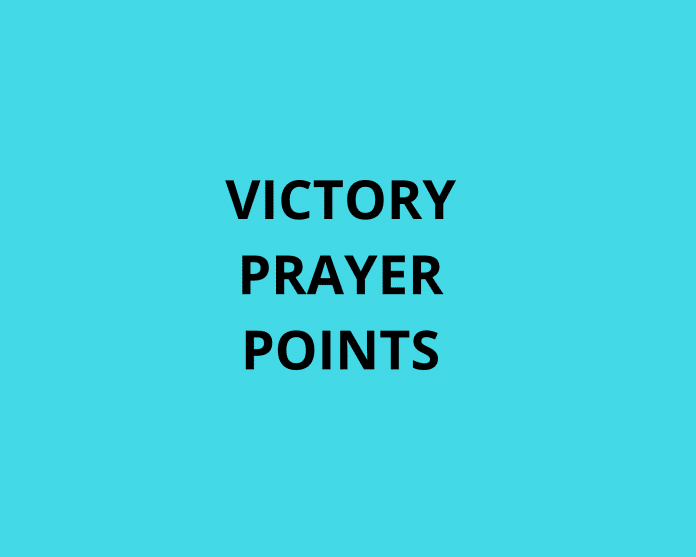 1 Corinthians 15:57 But thanks be to God, which giveth us the victory through our Lord Jesus Christ.
Every Christian is ordained to live a victorious life. Christ has ordained us to live like victors and not victims in life. The day you got born again, you became a victorious child of God, the life of God began to flow in your inside. Now hear this, nothing can stop a child of God, nothing can overcome you in this life and beyond. Today i have compiled prayer points for victory with bible verses. This prayer points will empower you to conquer oppositions and take your victory by force in Jesus name. The bible verses on the other hand will open your eyes to who you are in Christ Jesus this will boost your faith as you claim your victory today.
As believers, we are victorious, we are more than conquerors, we cannot be dominated by any human or circumstances. Jesus has conqured the devil and given us the victory in Christ. These prayer points for victory with bible verses will open our eyes to see the finished works of Christ Jesus. God through Christ has given us power to tread upon serpents and scorpions we have authority over all devils known and unknown. We dont need to defeat the devil, Jesus already defeated the devil for us and gave us the victory. That is why as a believer you must be full of faith, you must no let the devil push you about, you have the authority of the name of Jesus, therfore use it on the alter of prayer. I encourage you today to passionately pray this prayers with faith, this prayer points for victory and bible verses shall guarantee your lasting victory in Jesus name.
Victory Prayer Points
1. Father, i decree that all my enemies shall fall into their own traps, in the name of Jesus.
2. O Lord, convert my struggling to victory in Jesus name.
3. O Lord, I refuse to let You go unless You bless me in Jesus name
4. Father, i declare that every evil preparation against my life, shall be frustrated, in Jesus' name.
5. O Lord, let my joy, peace and blessings be multiplied in Jesus name.
6. Blood of Jesus, disconnect my life from failure at the edge of breakthroughs, in the name of Jesus.
7. I refuse to reap any evil harvest in every area of my life, in the name of Jesus.
8. Let divine favour in every blessing of life be my lot, in Jesus' name.
9. I cut off and reject every inherited poverty, in the name of Jesus.
10. Let the foundations of my life be repaired to carry divine prosperity, in the name of Jesus.
11.Oh Lord, I bind every strongman trying to bring me down in Jesus name
12. Father grant me divine tactics and strategies to continue to defeat and subdue the enemy in Jesus name.
13. I bind and paralyse the strongman employed or delegated to disgrace me, in the name of Jesus.
14. Let all the affairs of my life be too hot for my enemies to manipulate, in the name of Jesus.
15. O Lord, grant me supernatural wisdom to subdue all my enemies in Jesus name.
16. O Lord, let all my adversaries be put to shame in the name of Jesus.
17. O Lord, I declare that I shall come out victorious in every court case I have with my enemies in Jesus name.
18. I close every negative door that the enemy might want to open, to harm me in the name of Jesus.
19. You satanic agents, I command you to clear out from the pathway to my victory in this matter, in the name of Jesus.
20. I cancel any demonic decision and expectation targeting my life, in the name of Jesus.
21. Every evil grip upon my body, loose your hold, in Jesus' name.
22. I decree null band void very demonic verdict directed against me, in the name of Jesus.
23. I dismantle by the blood of Jesus, every evil weapon targetted against me, in the name of Jesus.
24. I challenge and disgrace every satanic prophet hired against me by fire, in the name of Jesus.
25. Every evil sponsors backing up my enemies, be eliminated now!!! in the name of Jesus.
26. Let the foothold of satanic oppressors become slippery, in the name of Jesus.
27. Holy Ghost fire, destroy every garment of reproach in my life, in the name of Jesus.
28. I refuse every evil design and label placed upon my life, in the name of Jesus.
29. Let riot and confusion baptize the camp of my enemies, in the name of Jesus.
30. Father, i shutdown every satanic broadcasting station fashioned against me, in the name of Jesus.
Father I thank You for my Victory In Christ Jesus.
22 Bible Verses About Victory
1. Deuteronomy 20:1-4
When thou goest out to battle against thine enemies, and seest horses, and chariots, and a people more than thou, be not afraid of them: for the LORD thy God is with thee, which brought thee up out of the land of Egypt. And it shall be, when ye are come nigh unto the battle, that the priest shall approach and speak unto the people, And shall say unto them, Hear, O Israel, ye approach this day unto battle against your enemies: let not your hearts faint, fear not, and do not tremble, neither be ye terrified because of them;read more.
2. 2 Chronicles 20:15
And he said, Hearken ye, all Judah, and ye inhabitants of Jerusalem, and thou king Jehoshaphat, Thus saith the LORD unto you, Be not afraid nor dismayed by reason of this great multitude; for the battle is not yours, but God's.
3. Psalm 18:35
Thou hast also given me the shield of thy salvation: and thy right hand hath holden me up, and thy gentleness hath made me great.
4. 1 Corinthians 15:57
But thanks be to God, which giveth us the victory through our Lord Jesus Christ.
4. 2 Corinthians 2:14
Now thanks be unto God, which always causeth us to triumph in Christ, and maketh manifest the savour of his knowledge by us in every place.
6. Psalm 20:7-8
Some trust in chariots, and some in horses: but we will remember the name of the LORD our God. They are brought down and fallen: but we are risen, and stand upright.
7. 1 Samuel 17:45-47
Then said David to the Philistine, Thou comest to me with a sword, and with a spear, and with a shield: but I come to thee in the name of the LORD of hosts, the God of the armies of Israel, whom thou hast defied. This day will the LORD deliver thee into mine hand; and I will smite thee, and take thine head from thee; and I will give the carcases of the host of the Philistines this day unto the fowls of the air, and to the wild beasts of the earth; that all the earth may know that there is a God in Israel. And all this assembly shall know that the LORD saveth not with sword and spear: for the battle is the LORD'S, and he will give you into our hands.
8. Psalm 44:3-7
For they got not the land in possession by their own sword, neither did their own arm save them: but thy right hand, and thine arm, and the light of thy countenance, because thou hadst a favour unto them. Thou art my King, O God: command deliverances for Jacob. Through thee will we push down our enemies: through thy name will we tread them under that rise up against us.read more.
9. Psalm 60:11-12
Give us help from trouble: for vain is the help of man. Through God we shall do valiantly: for he it is that shall tread down our enemies.
10. Psalm 146:3
Put not your trust in princes, nor in the son of man, in whom there is no help.
11. Proverbs 21:31
The horse is prepared against the day of battle: but safety is of the LORD.
12. Psalm 118:15
The voice of rejoicing and salvation is in the tabernacles of the righteous: the right hand of the LORD doeth valiantly.
13. Romans 8:28
And we know that all things work together for good to them that love God, to them who are the called according to his purpose.
14. 2 Corinthians 4:7-12
But we have this treasure in earthen vessels, that the excellency of the power may be of God, and not of us. We are troubled on every side, yet not distressed; we are perplexed, but not in despair; Persecuted, but not forsaken; cast down, but not destroyed;read more.
15. 2 Corinthians 12:7-10
And lest I should be exalted above measure through the abundance of the revelations, there was given to me a thorn in the flesh, the messenger of Satan to buffet me, lest I should be exalted above measure. For this thing I besought the Lord thrice, that it might depart from me. And he said unto me, My grace is sufficient for thee: for my strength is made perfect in weakness. Most gladly therefore will I rather glory in my infirmities, that the power of Christ may rest upon me.read more.
16. Isaiah 44:28-45
That saith of Cyrus, He is my shepherd, and shall perform all my pleasure: even saying to
Jerusalem, Thou shalt be built; and to the temple, Thy foundation shall be laid. Thus saith the LORD to his anointed, to Cyrus, whose right hand I have holden, to subdue nations before him; and I will loose the loins of kings, to open before him the two leaved gates; and the gates shall not be shut; I will go before thee, and make the crooked places straight: I will break in pieces the gates of brass, and cut in sunder the bars of iron:read more.
17. Isaiah 41:25
18. I have raised up one from the north, and he shall come: from the rising of the sun shall he call upon my name: and he shall come upon princes as upon morter, and as the potter treadeth clay.
19. Isaiah 45:13
I have raised him up in righteousness, and I will direct all his ways: he shall build my city, and he shall let go my captives, not for price nor reward, saith the LORD of hosts.
20. Ezekiel 33:27-29
Say thou thus unto them, Thus saith the Lord GOD; As I live, surely they that are in the wastes shall fall by the sword, and him that is in the open field will I give to the beasts to be devoured, and they that be in the forts and in the caves shall die of the pestilence. For I will lay the land most desolate, and the pomp of her strength shall cease; and the mountains of Israel shall be desolate, that none shall pass through. Then shall they know that I am the LORD, when I have laid the land most desolate because of all their abominations which they have committed.
21. Acts 2:36
Therefore let all the house of Israel know assuredly, that God hath made that same Jesus, whom ye have crucified, both Lord and Christ.
22. Acts 3:17-18
And now, brethren, I wot that through ignorance ye did it, as did also your rulers. But those things, which God before had shewed by the mouth of all his prophets, that Christ should suffer, he hath so fulfilled