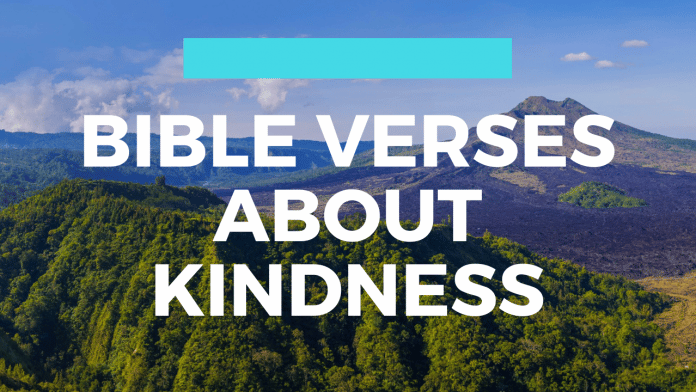 Today we will be dealing with bible verses about kindness. Kindness, according to the dictionary, is the act of being considerate, generous, or friendly to another person. Often, we misconstrue kindness for helping people. Helping people doesn't mean that you are friendly or you like people, but kindness will compel you to like people by putting their interest first before yours.
There has always been this argument when it comes to a topic like this one that who needs to show kindness and to whom do we show kindness? Every human created by God should be kind and show compassion for others. It doesn't matter your religion, race, ethnic group, or skin color; HUMANITY should be all about showing kindness to one another.
God understands that the nature of man is filled with bitterness, anger, and evil that is why he admonished us to be kind to one another in the book of Ephesians 4:31-32 Let all bitterness, and wrath, and anger, and clamor, and evil speaking, be put away from you, with all malice: And be ye kind one to another, tenderhearted, forgiving one another, even as God for Christ's sake hath forgiven you. God compelled us to be kind unto one another.
Judging by this, we will not be making a mistake if we say that kindness is an adjunct of love because when you love someone, you will be kind to that person.
The stereotypical perception is that people should be kind and show love to their kinsman alone, but God wants us to be generous, friendly, and considerate to everyone and not just our friends alone. Only a little more heart of kindness would rescue the entire world from the present mess we have gotten ourselves into.
Meanwhile, we can still make amends, this article affords us the necessary bible verses that we need to understand what kindness is and how and who God wants us to show it to. Now let's look at some bible verses about kindness
Bible Verses
Genesis 20:13 And it came to pass, when God caused me to wander from my father's house, that I said unto her, This is thy kindness which thou shalt shew unto me; at every place whither we shall come, say of me, He is my brother.
Genesis 21:23 Now therefore swear unto me here by God that thou wilt not deal falsely with me, nor with my son, nor with my son's son: but according to the kindness that I have done unto thee, thou shalt do unto me, and to the land wherein thou hast sojourned.
Genesis 24:12 And he said, O LORD God of my master Abraham, I pray thee, send me good speed this day, and shew kindness unto my master Abraham.
Genesis 24:14 And let it come to pass, that the damsel to whom I shall say, Let down thy pitcher, I pray thee, that I may drink; and she shall say, Drink, and I will give thy camels drink also: let the same be she that thou hast appointed for thy servant Isaac; and thereby shall I know that thou hast shewed kindness unto my master.
Judges 8:35 Neither shewed they kindness to the house of Jerubbaal, namely, Gideon, according to all the goodness which he had shewed unto Israel.
Ruth 2:20 And Naomi said unto her daughter in law, Blessed be he of the LORD, who hath not left off his kindness to the living and to the dead. And Naomi said unto her, The man is near of kin unto us, one of our next kinsmen.
1 Samuel 15:6 And Saul said unto the Kenites, Go, depart, get you down from among the Amalekites, lest I destroy you with them: for ye shewed kindness to all the children of Israel, when they came up out of Egypt. So the Kenites departed from among the Amalekites.
1 Samuel 20:15 But also thou shalt not cut off thy kindness from my house for ever: no, not when the LORD hath cut off the enemies of David every one from the face of the earth.
2 Samuel 2:6 And now the LORD shew kindness and truth unto you: and I also will requite you this kindness, because ye have done this thing.
2 Samuel 9:3 And the king said, Is there not yet any of the house of Saul, that I may shew the kindness of God unto him? And Ziba said unto the king, Jonathan hath yet a son, which is lame on his feet.
1 Chronicles 19:2 And David said, I will shew kindness unto Hanun the son of Nahash, because his father shewed kindness to me. And David sent messengers to comfort him concerning his father. So the servants of David came into the land of the children of Ammon to Hanun, to comfort him.
2 Chronicles 24:22 Thus Joash the king remembered not the kindness which Jehoiada his father had done to him, but slew his son. And when he died, he said, The LORD look upon it, and require it.
Psalms 25:6 Remember, O LORD, thy tender mercies and thy lovingkindnesses; for they have been ever of old.
Psalms 26:3 For thy lovingkindness is before mine eyes: and I have walked in thy truth.
Psalms 31:21 Blessed be the LORD: for he hath shewed me his marvellous kindness in a strong city.
Psalms 42:8 Yet the LORD will command his lovingkindness in the daytime, and in the night his song shall be with me, and my prayer unto the God of my life.
Psalms 107:43 Whoso is wise, and will observe these things, even they shall understand the lovingkindness of the LORD.
Psalms 119:149 Hear my voice according unto thy lovingkindness: O LORD, quicken me according to thy judgment.
Psalms 143:8 Cause me to hear thy lovingkindness in the morning; for in thee do I trust: cause me to know the way wherein I should walk; for I lift up my soul unto thee.
Proverbs 31:26 She openeth her mouth with wisdom; and in her tongue is the law of kindness.
Isaiah 54:8 In a little wrath I hid my face from thee for a moment; but with everlasting kindness will I have mercy on thee, saith the LORD thy Redeemer.
Isaiah 54:10 For the mountains shall depart, and the hills be removed; but my kindness shall not depart from thee, neither shall the covenant of my peace be removed, saith the LORD that hath mercy on thee.
Jeremiah 9:24 But let him that glorieth glory in this, that he understandeth and knoweth me, that I am the LORD which exercise lovingkindness, judgment, and righteousness, in the earth: for in these things I delight, saith the LORD.
Jeremiah 31:3 The LORD hath appeared of old unto me, saying, Yea, I have loved thee with an everlasting love: therefore with lovingkindness have I drawn thee.
Hosea 2:19 And I will betroth thee unto me for ever; yea, I will betroth thee unto me in righteousness, and in judgment, and in lovingkindness, and in mercies.
Joel 2:13 And rend your heart, and not your garments, and turn unto the LORD your God: for he is gracious and merciful, slow to anger, and of great kindness, and repenteth him of the evil.
Acts 28:2 And the barbarous people shewed us no little kindness: for they kindled a fire, and received us every one, because of the present rain, and because of the cold.
2 Corinthians 6:6 By pureness, by knowledge, by longsuffering, by kindness, by the Holy Ghost, by love unfeigned,
Ephesians 2:7 That in the ages to come he might shew the exceeding riches of his grace in his kindness toward us through Christ Jesus.
Colossians 3:12 Put on therefore, as the elect of God, holy and beloved, bowels of mercies, kindness, humbleness of mind, meekness, longsuffering;
Titus 3:4 But after that the kindness and love of God our Saviour toward man appeared,
2 Peter 1:7 And to godliness brotherly kindness; and to brotherly kindness charity.