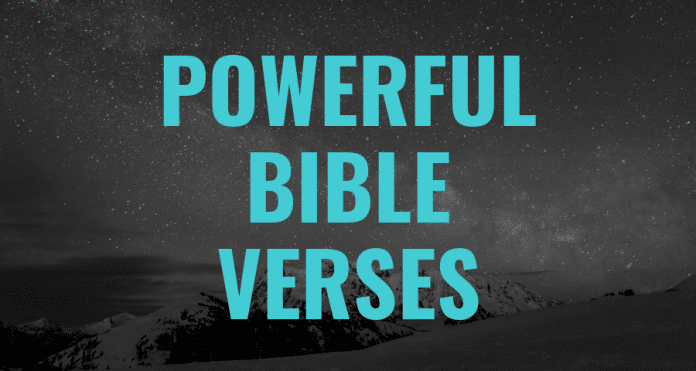 Today, we shall be exploring some powerful bible verses. The scripture contains the word of God that we need for our lives. It is an excellent thing to pray, and it is another thing to know the word. The word of God is powerful and sharper than any two-edged sword. Recall that when the devil came to put Jesus into temptation, Christ didn't pray, what he did was use the word. For it has been written that man shall not live by bread alone but by every word that comes out from the mouth of God. God honors his word even more than his name, and even the devil understands this. No wonder the devil also makes use of the word of God at times.
Whenever we are praying, we must know some scriptural verses to back every of our prayers. Many of us have fell prey to the devil simply because we don't know what God is saying. Many people have been manipulated by evil prophecy, prophcies like you will die, you will have an accident, something evil us coming be careful. And some people have compromised their faith in the Lord due to evil prophecy, they have worshipped on the altar of the devil because they don't want to die. Whereas, the bible says who speaks and it comes to pass when the Almighty has not spoken? This is why it is important to know the word of God.
Prayer might be the gun we take to war, but the word of God is the bullet. There is a little to what the gun can do without a bullet. When we pray, we should also use the word as back up to activate our prayers, when we use the word, we make God committed. We have compiled a list of powerful bible verses that we need to know and always use during our moment of prayer.
Bible Verses
Psalms 20:1-9 The LORD hear thee in the day of trouble; the name of the God of Jacob defend thee; Send thee help from the sanctuary, and strengthen thee out of Zion; Remember all thy offerings, and accept thy burnt sacrifice; Selah. Grant thee according to thine own heart, and fulfil all thy counsel. We will rejoice in thy salvation, and in the name of our God we will set up our banners: the LORD fulfil all thy petitions. Now know I that the LORD saveth his anointed; he will hear him from his holy heaven with the saving strength of his right hand. Some trust in chariots, and some in horses: but we will remember the name of the LORD our God. They are brought down and fallen: but we are risen, and stand upright. Save, LORD: let the king hear us when we call.
Psalms 24:1-10 The earth is the LORD'S, and the fulness thereof; the world, and they that dwell therein. For he hath founded it upon the seas, and established it upon the floods. Who shall ascend into the hill of the LORD? or who shall stand in his holy place? He that hath clean hands, and a pure heart; who hath not lifted up his soul unto vanity, nor sworn deceitfully. He shall receive the blessing from the LORD, and righteousness from the God of his salvation. This is the generation of them that seek him, that seek thy face, O Jacob. Selah. Lift up your heads, O ye gates; and be ye lift up, ye everlasting doors; and the King of glory shall come in. Who is this King of glory? The LORD strong and mighty, the LORD mighty in battle. Lift up your heads, O ye gates; even lift them up, ye everlasting doors; and the King of glory shall come in. Who is this King of glory? The LORD of hosts, he is the King of glory. Selah.
Psalms 23:1-6 The LORD is my shepherd; I shall not want. He maketh me to lie down in green pastures: he leadeth me beside the still waters. He restoreth my soul: he leadeth me in the paths of righteousness for his name's sake. Yea, though I walk through the valley of the shadow of death, I will fear no evil: for thou art with me; thy rod and thy staff they comfort me. Thou preparest a table before me in the presence of mine enemies: thou anointest my head with oil; my cup runneth over. Surely goodness and mercy shall follow me all the days of my life: and I will dwell in the house of the LORD for ever.
Jeremiah 29:11 For I know the thoughts that I think toward you, saith the LORD, thoughts of peace, and not of evil, to give you an expected end.
Psalms 118:17 I shall not die, but live, and declare the works of the LORD.
Philippians 4: 19 But my God shall supply all your need according to his riches in glory by Christ Jesus.
Isaiah 54:17 No weapon that is formed against thee shall prosper; and every tongue that shall rise against thee in judgment thou shalt condemn. This is the heritage of the servants of the LORD, and their righteousness is of me, saith the LORD.
Romans 8:37 Nay, in all these things we are more than conquerors through him that loved us.
Zechariah 4:6-7 Then he answered and spake unto me, saying, This is the word of the LORD unto Zerubbabel, saying, Not by might, nor by power, but by my spirit, saith the LORD of hosts. Who art thou, O great mountain? before Zerubbabel thou shalt become a plain: and he shall bring forth the headstone thereof with shoutings, crying, Grace, grace unto it.
2 Thessalonians 3:3 But the Lord is faithful, who shall stablish you, and keep you from evil.
Luke 10:19 Behold, I give unto you power to tread on serpents and scorpions, and over all the power of the enemy: and nothing shall by any means hurt you.
Matthew 18:18 Verily I say unto you, Whatsoever ye shall bind on earth shall be bound in heaven: and whatsoever ye shall loose on earth shall be loosed in heaven.
Deuteronomy 28:7 The LORD shall cause thine enemies that rise up against thee to be smitten before thy face: they shall come out against thee one way, and flee before thee seven ways.
John 16:33 These things I have spoken unto you, that in me ye might have peace. In the world ye shall have tribulation: but be of good cheer; I have overcome the world.
John 8:32 And ye shall know the truth, and the truth shall make you free.
1 John 3:8 He that committeth sin is of the devil; for the devil sinneth from the beginning. For this purpose the Son of God was manifested, that he might destroy the works of the devil.
Isaiah 40:31 But they that wait upon the LORD shall renew their strength; they shall mount up with wings as eagles; they shall run, and not be weary; and they shall walk, and not faint.
Romans 8:31 What shall we then say to these things? If God be for us, who can be against us?
Joshua 1:9 Have not I commanded thee? Be strong and of a good courage; be not afraid, neither be thou dismayed: for the LORD thy God is with thee whithersoever thou goest.
Isaiah 53:5 But he was wounded for our transgressions, he was bruised for our iniquities: the chastisement of our peace was upon him; and with his stripes we are healed.
Psalms 91:1-16 He that dwelleth in the secret place of the Most High shall abide under the shadow of the Almighty. I will say of the LORD, He is my refuge and my fortress: my God; in him will I trust. Surely he shall deliver thee from the snare of the fowler, and from the noisome pestilence. He shall cover thee with his feathers, and under his wings shalt thou trust: his truth shall be thy shield and buckler. Thou shalt not be afraid for the terror by night; nor for the arrow that flieth by day; Nor for the pestilence that walketh in darkness; nor for the destruction that wasteth at noonday. A thousand shall fall at thy side, and ten thousand at thy right hand; but it shall not come nigh thee. Only with thine eyes shalt thou behold and see the reward of the wicked. Because thou hast made the LORD, which is my refuge, even the most High, thy habitation; There shall no evil befall thee, neither shall any plague come nigh thy dwelling. For he shall give his angels charge over thee, to keep thee in all thy ways. They shall bear thee up in their hands, lest thou dash thy foot against a stone. Thou shalt tread upon the lion and adder: the young lion and the dragon shalt thou trample under feet. Because he hath set his love upon me, therefore will I deliver him: I will set him on high, because he hath known my name. He shall call upon me, and I will answer him: I will be with him in trouble; I will deliver him, and honour him. With long life will I satisfy him, and shew him my salvation.