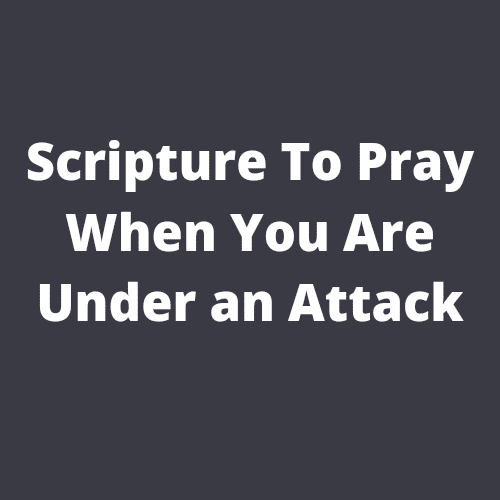 Today we will be teaching on scripture to pray when you are under an attack. The scripture admonish us not to relent in prayer, for our adversary is like a roaring lion going about looking for who to devour. That's why it is essential that we pray all the time that we may not fall into the temptations of the enemy. One of the ways the enemy tempt the faith of man is through series of spiritual attacks.

Attacks could come in our dreams. Sometimes we sleep and see ourselves being attacked by some unseen forces.  Sometimes it could be terrible sickness. There is no way the enemy can not attack us. The scripture says in the book of Ephesians 6:12 For we do not wrestle against flesh and blood, but against the rulers, against the authorities, against the cosmic powers over this present darkness, against the spiritual forces of evil in the heavenly places. We wrestle against powers and ruler of darkness. We must let our guards down.

When we pray against the attack of the enemy, it is important that we use the scripture. In our previous article, we highlighted the importance of praying with the scripture. Whenever we are praying while under spiritual attack, we need courage and faith. We get more courage and faith by praying with the scripture. The book of Hebrews 4:12 For the word of God is quick, and powerful, and sharper than any twoedged sword, piercing even to the dividing asunder of soul and spirit, and of the joints and marrow, and is a discerner of the thoughts and intents of the heart. When we speak the word of God in the face of trouble, we intensify our spirit man and our hope in the lord is increased.

Whenever you fall under the attack of the enemy, here are 10 scripture to pray
Psalm 23:1-5 The Lord is my shepherd; I shall not want. He maketh me to lie down in green pastures: he leadeth me beside the still waters. He restoreth my soul: he leadeth me in the paths of righteousness for his name's sake. Yea, though I walk through the valley of the shadow of death, I will fear no evil: for thou art with me; thy rod and thy staff they comfort me.
The psalm recognises that God is the shepherd and you are the sheep. God who is the shepherd will surely provide for all that we need include protection against the claws and teeth of the wolves, hyenas and every other wild predator. Yes, though I walk through the valley of shadow of death, I fear no evil, for thou art with me. Thy rod and thy staff they comfort me. This portion of the scripture is helping us build courage that even though we may walk through the valley of death whether through sickness or tribulation, but we fear not because God is with us and he will comfort us in our problem. 
Psalm 28:1-4 Unto thee will I cry, O Lord my rock; be not silent to me: lest, if thou be silent to me, I become like them that go down into the pit. Hear the voice of my supplications, when I cry unto thee, when I lift up my hands toward thy holy oracle. Draw me not away with the wicked, and with the workers of iniquity, which speak peace to their neighbours, but mischief is in their hearts. Give them according to their deeds, and according to the wickedness of their endeavours: give them after the work of their hands; render to them their desert.
This is a prayer for help from the Lord. We say this to seek help and refuge from the lord when we are troubled or attacked. It says if you be silent to me, I become like them that go down into the pit. It says give the wicked and worker of iniquity according to their deeds. This means let the evil that they plan become theirs. When you feel attacked or struck with great tribulation, Psalm 28 is one of the scriptures to read. 
Deuteronomy 28:7 The LORD will cause your enemies who rise against you to be defeated before your face; they shall come out against you one way and flee before you seven ways.
You should personalize this prayer. The Lord shall cause my enemies who rise against me to be defeated before my eyes. Pray this scripture fervently for you to be victorious. All those that launched an evil attack against you will be put to shame. 
Psalm 91:7 He who dwells in the secret place of the Most High Shall abide under the shadow of the Almighty.
Psalms 91:4-13 He will cover you with his feathers, and under his wings you will find refuge; his faithfulness will be your shield and rampart. You will not fear the terror of night, nor the arrow that flies by day,  nor the pestilence that stalks in the darkness, nor the plague that destroys at midday.  A thousand may fall at your side, ten thousand at your right hand, but it will not come near you. You will only observe with your eyes and see the punishment of the wicked. For you say, "The LORD is my refuge," and you make the Most High your dwelling, no harm will overtake you, no disaster will come near your tent. For he will command his angels concerning you to guard you in all your ways; they will lift you up in their hands, so that you will not strike your foot against a stone. You will tread on the lion and the cobra; you will trample the great lion and the serpent. 

The best way to pray yourself out of any situation is by using the word of God. Reminding God about his promises moves God to work. God has promised to cover us with his feathers and under his wings we shall find refuge. A thousand shall fall at our right hand and ten thousand at our left hand but they shall not come near us.

Psalm 35:1-4 Contend, LORD, with those who contend with me; fight against those who fight against me. Take up shield and armor; arise and come to my aid. Brandish spear and javelinagainst those who pursue me. Say to me, "I am your salvation." May those who seek my life be disgraced and put to shame; may those who plot my ruin be turned back in dismay.

This is a scriptural text written by David when he fell under an attack. He begged God to rise and fight for him. Contend with those that contend with me, fight with those that fight me. In the same vein, you are asking God to pick up arms and wage war against those that won't let you rest.


Prayer Points
I decree by the authority of heaven, every attack of the enemy is nullified in your life in the name of Jesus.
 
For it has been written, no weapon fashion against us shall prosper. I decree by the name of Jesus, every arrow shot at you is cancelled in the name of Jesus.
 
The scripture says the eyes of the lord is always upon the righteous and his ears are always attentive to their prayers. In the name of Jesus, your eyes will always be upon me in the name of Jesus.
 
I decree by the authority of heaven, every man or woman launching war against my life, fall to death in Jesus name.
 
Lord, I pray that you will help me. I ask that by your mercy you will rescue me from the hands of the strong man troubling my life in Jesus name.