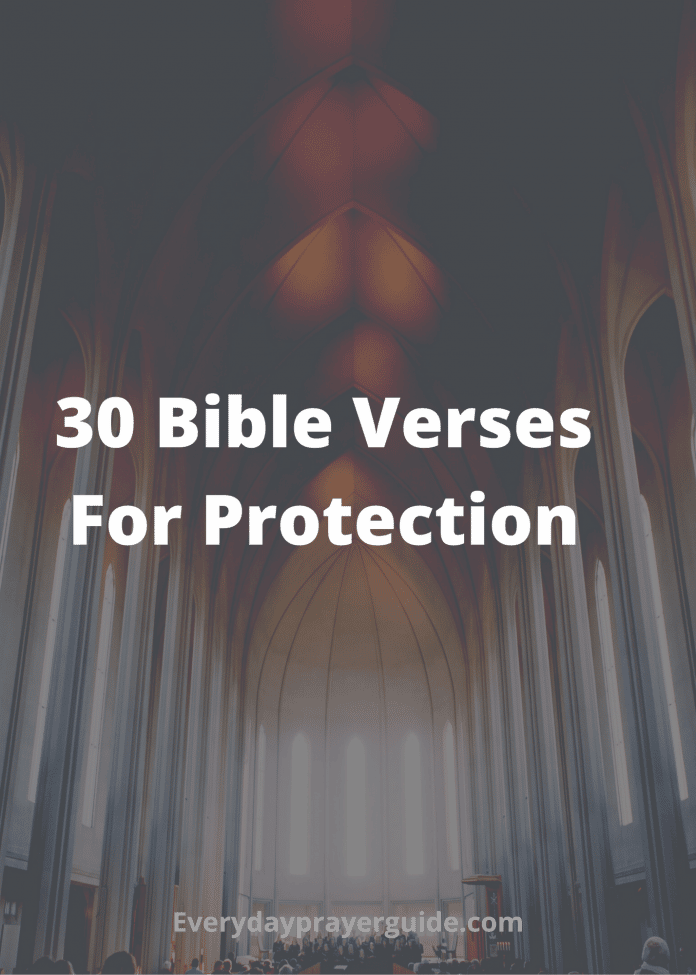 We will be dishing out 30 bible verses for protection. Now that the year is running to an end, we need the protection of God more than ever before. It is never the plan of the enemy for you to be happy. The scripture John 10:10 The thief does not come except to steal, and to kill, and to destroy. I have come that they may have life, and that they may have it more abundantly. Whenever the thief comes, there is always a negative impact left behind. There is no way you will ever be happy after you are being visited by a thief.
The protection of God will exempt you from the works of the enemy. While praying for God's protection, it is important to use the scripture. The word of the God during prayer gives strength to our prayer to allow it go far. God will not go back on His word. Whatever promise for protection that has been written will surely be fulfilled by God. This explains why you should know bible verses about protection. As you use these bible verses for prayer, may the protection of God be upon you and household.
Isaiah 41:10 Fear not, for I am with you; be not dismayed, for I am your God; I will strengthen you, I will help you, I will uphold you with my righteous right hand.
Psalm 91:1-16 He who dwells in the shelter of the Most High will abide in the shadow of the Almighty. I will say to the Lord, "My refuge and my fortress, my God, in whom I trust."
Isaiah 54:17 No weapon that is fashioned against you shall succeed, and you shall confute every tongue that rises against you in judgment. This is the heritage of the servants of the Lord and their vindication from me, declares the Lord.
2 Thessalonians 3:3 But the Lord is faithful. He will establish you and guard you against the evil one. 
2 Timothy 4:18 The Lord will rescue me from every evil deed and bring me safely into his heavenly kingdom. To him be the glory forever and ever. Amen.
2 Samuel 22:3-4 My God, my rock, in whom I take refuge, my shield, and the horn of my salvation, my stronghold and my refuge, my savior; you save me from violence. I call upon the Lord, who is worthy to be praised, and I am saved from my enemies.
Proverbs 19:23 The fear of the Lord leads to life, and whoever has it rests satisfied; he will not be visited by harm.
Psalm 46:1 God is our refuge and strength, a very present help in trouble.
Psalm 138:7 Though I walk in the midst of trouble, you preserve my life; you stretch out your hand against the wrath of my enemies, and your right hand delivers me.
James 4:7 Submit yourselves therefore to God. Resist the devil, and he will flee from you.
Psalm 23:1-6 The Lord is my shepherd; I shall not want. He makes me lie down in green pastures. He leads me beside still waters. He restores my soul. He leads me in paths of righteousness for his name's sake. Even though I walk through the valley of the shadow of death, I will fear no evil, for you are with me; your rod and your staff, they comfort me. You prepare a table before me in the presence of my enemies; you anoint my head with oil; my cup overflows.
Proverbs 18:10  The name of the Lord is a strong tower; the righteous man runs into it and is safe.
1 Timothy 5:8 But if anyone does not provide for his relatives, and especially for members of his household, he has denied the faith and is worse than an unbeliever.
Psalm 32:7 You are a hiding place for me; you preserve me from trouble; you surround me with shouts of deliverance.
Psalm 18:30 This God—his way is perfect; the word of the Lord proves true; he is a shield for all those who take refuge in him.
Malachi 3:6 For I the Lord do not change; therefore you, O children of Jacob, are not consumed.
Psalm 121:7 The Lord will keep you from all evil; he will keep your life.
Deuteronomy 31:6 Be strong and courageous. Do not fear or be in dread of them, for it is the Lord your God who goes with you. He will not leave you or forsake you.
1 John 5:18 We know that everyone who has been born of God does not keep on sinning, but he who was born of God protects him, and the evil one does not touch him.
1 John 5:19 We know that we are from God, and the whole world lies in the power of the evil one.
Romans 8:31 What then shall we say to these things? If God is for us, who can be against us?
Nahum 1:7 The Lord is good, a stronghold in the day of trouble; he knows those who take refuge in him.
Hebrews 13:6 So we can confidently say, "The Lord is my helper; I will not fear; what can man do to me?"
Psalm 62:2 He only is my rock and my salvation, my fortress; I shall not be greatly shaken.
Psalm 121:7-8 The Lord will keep you from all evil; he will keep your life. The Lord will keep your going out and your coming in from this time forth and forevermore.
Exodus 14:14 The Lord will fight for you, and you have only to be silent.
Luke 21:28 Now when these things begin to take place, straighten up and raise your heads, because your redemption is drawing near.
Proverbs 30:5 Every word of God proves true; he is a shield to those who take refuge in him.
Psalm 16:8 I have set the Lord always before me; because he is at my right hand, I shall not be shaken.
Psalm 34:22 The Lord redeems the life of his servants; none of those who take refuge in him will be condemned.
Prayers
I decree that the protection of God will be upon you. In the remaining months in this year and the new year to come, no weapon fashion against you shall prosper. Every gathering of the wicked against your life is destroyed by the fire of the Holy Ghost. Your going out is secured and your coming in is blessed. You shall not fall victim to any antics of the devil. I decree that the pillar of fire shall surround you and no harm shall befall you or come near your dwelling place. In the name of Jesus.