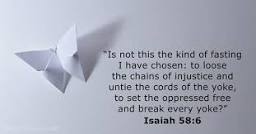 Fasting is setting aside the things that gratifies the flesh, for instance food to seek the Lord in prayers and bible study. This powerful bible verses about fasting will help your spiritual understanding about the subject of fasting. The purpose of fasting is to seek the face of the Lord in prayers and the study of the word. When you fast without prayer and bible study you are simple starving yourself, there is no spiritual significance to that. As you fast study this powerful bible verses about fasting to have a quality time with God as you wait on him.
Its important to note that inasmuch as fasting is a highly recommended spiritual exercise, it should be done moderately and with the wisdom of God. Jesus fasted for 40 days without food, doesn't mean you should go that long without food. Please understand that Jesus did that to save the world, you are not about to save the world, so exercise caution as you fast. I recommend at most 3 days fasting from 6 am to 6 pm. You start in the morning and you end in the evening everyday for 3 days maximum. We should depend on the holy spirit when we fast knowing that he will guide us to our desired results while we fast. He doesn't need 40 days to do that. I pray that with these powerful bible verses about fasting your fastings shall be fruitful in Jesus name.
10 powerful bible verses about fasting
1). Isaiah 58:6:
6 Is not this the fast that I have chosen? to loose the bands of wickedness, to undo the heavy burdens, and to let the oppressed go free, and that ye break every yoke?
2). Ezra 8:23:
23 So we fasted and besought our God for this: and he was intreated of us.
3). Matthew 6:16:
16 Moreover when ye fast, be not, as the hypocrites, of a sad countenance: for they disfigure their faces, that they may appear unto men to fast. Verily I say unto you, They have their reward.
4). Matthew 6:17-18:
17 But thou, when thou fastest, anoint thine head, and wash thy face; 18 That thou appear not unto men to fast, but unto thy Father which is in secret: and thy Father, which seeth in secret, shall reward thee openly.
5). Acts 13:3:
3 And when they had fasted and prayed, and laid their hands on them, they sent them away.
6). Joel 2:12:
12 Therefore also now, saith the Lord, turn ye even to me with all your heart, and with fasting, and with weeping, and with mourning:
7). Daniel 10:3:
3 I ate no pleasant bread, neither came flesh nor wine in my mouth, neither did I anoint myself at all, till three whole weeks were fulfilled.
8). Acts 13:2:
2 As they ministered to the Lord, and fasted, the Holy Ghost said, Separate me Barnabas and Saul for the work whereunto I have called them.
9). Exodus 34:28:
28 And he was there with the Lord forty days and forty nights; he did neither eat bread, nor drink water. And he wrote upon the tables the words of the covenant, the ten commandments.
10). Luke 4:2:
2 Being forty days tempted of the devil. And in those days he did eat nothing: and when they were ended, he afterward hungered.