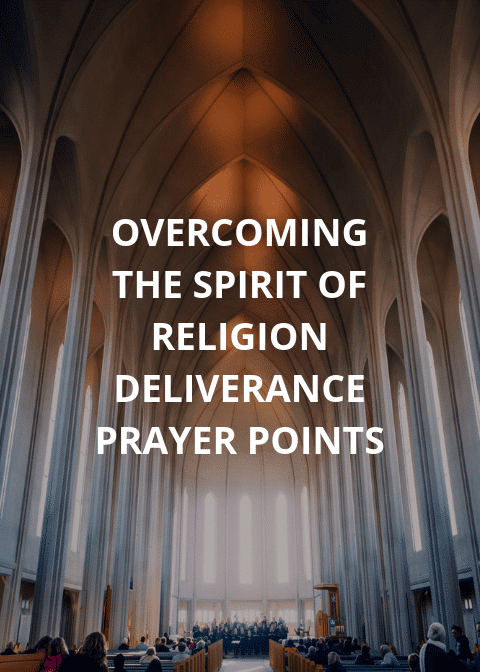 2 Corinthians 11:3-4:
3 But I fear, lest by any means, as the serpent beguiled Eve through his subtilty, so your minds should be corrupted from the simplicity that is in Christ. 4 For if he that cometh preacheth another Jesus, whom we have not preached, or if ye receive another spirit, which ye have not received, or another gospel, which ye have not accepted, ye might well bear with him.
A religious spirit can be defined as serving God without the Holy Spirit.One may wonder, is this possible? Of course it is. Religious Christians are believers who see Christianity as a religion of rules and regulations. This set of believers are more concerned about keeping rules than getting to know Jesus. A religious spirit is a dangerous spirit, it does not build relationship with God, it only strives to win accolades for itself. For you to serve God effectively, you must overcome this spirit of religion from your life. I have compiled some deliverance prayer points on overcoming the spirit of religion. A very good example of people possessed with the spirit of religion is the Pharisees in the days of Jesus. The bragged so much that they keep the laws that they never knew how far the where from God. They loved Gods law more than they loved God. There religion blinded them so much that they never recognized God ( Jesus) in there midst.
A religious spirit is a spiritless or heartless spirit. In the days of Jesus, on several occasions He healed people on the sabbath day, but instead of the Pharisees to be glad that someone was healed, no they got mad that Jesus was violating there laws. You see, they don't care about the sick being healed, they don't even care if they died, they only care about keeping the laws of God. They believe that if the keep the laws of God, God will be glad with them, how dilusional. As you engage this deliverance prayer points on overcoming the spirit of religion, I see God setting you free in Jesus name.
Is Anything Wrong With Keeping Gods Laws?
But one may ask, is there anything wrong with keeping the laws of God? The answer is a resounding No. Nothing is wrong with that, but this is the problem with religion,the imperfections of mankind. After the fall of man from eden, man lost the ability to keep Gods laws perfectly in the flesh ( the human body). No man can please God by obeying the laws, no man can qualify for righteousness by obeying the laws, no matter how good we think we are, we are filthy before God. Our righteousness at its peakest peak is filthier than the filthiest rags before God. See Romans 3:1-31, Romans 4:1-25. This is why it is impossible to please God or make heaven with a religious spirit. If you read the gospels,you will observe that Jesus was often harsh with the scribes and Pharisees, this was because they came to him with there own righteousness, they were filthy before Jesus and Jesus being Holy reacted to there filthiness. He rebuked them sharply, called them vipers, hypocrites, etc see Luke 11:37-54, Matthew 23:1-39. The good news is that there is a cure for the spirit of religion.
Cure For The Spirit Of Religion
Jesus Christ is the cure. No man can be justified or declared righteous without believing in Jesus Christ. He is the way, the truth and the life, no mankind cometh to God without Him. Our faith in Jesus is the only way we can be saved, His righteousness is the only righteousness that can qualify us before God. You need to be born again and have a personal relationships with Jesus . Get to know the person of Jesus and His unconditional love for you. God is not crazy about us keeping His laws, He wants us to get to know His son, and receive His Holy spirit, when we know Jesus we will fall in love with Him and when we fall in love with Him, we will naturally live like Him. Just like you don't struggle to please the one you Love,you will not struggle to please God when you know the person of Jesus. Wlso we overcome the spirit of religion by deliverance prayers. We must rise in prayers as we reject the spirit of religion, we must aske the holy spirit to continue to guide us as we run our christian race in life.
In this prayers, you are going to be declaring your freedom from all forms of religious spirits. My prayer for you today is this, as you engage this deliverance prayer points on overcoming the spirit of religion, every religious hold over you shall be broken forever in Jesus name.
Deliverance Prayer Points On Overcoming The Spirit Of Religion
1) I declare that i am free from the spirit of Legalism in Jesus name
2) I declare that i am free from the spirit of hypocrisy in jesus name
3) I declare that I am free from every form of Religious murder in Jesus name
4) I declare that i am free from the spirit of Lust and ambition for recognition in Jesus name
5) I declare that i am free from the spirit of Condemnation in Jesus name amen
6) I declare that I am free from the spirit of idolatary in Jesus name
7) I declare that I am free from the spirit of pride in Jesus name
8) I declare that i am free from the spirit of Lust and ambition for position in Jesus name
9) I declare that i am free from the spirit of the Lust the eyes and the pride of life in Jesus name
10) I declare that i am free from False love power and control in religious mattersnin Jesus name
11) I declare that I am free from the spirit of false humilty in jesus
12) I declare that i am free from the spirit of hardness of heart in Jesus name
13) I declare that i am free from the spirit of False compassion in Jesus name
14) I declare that I am free from the spirit of False prophecy in Jesus name
15) I declare that i am free from the spirit of False word of wisdom in Jesus name
16) I declare that i am free from the spirit of Religious dominance in Jesus name
17) I declare that i am free from the spirit of Self-serving in Jesus name
18) I declare that i am free from the spirit of Selfishness in Jesus name.
19) I declare that i am free from the spirit of Greed in Jesus name
20) I declare that i am free from the spirit of No love in Jesus name
21) I declare that i am free from the spirit of No compassion in Jesus name
22) I declare that i am free from the spirit of Pretense in Jesus name
23) I declare that i am free from the spirit of Robbing in Jesus name
24) I declare that i am free from the spirit of Cheating in Jesus name
25) I declare that i am free from the spirit of Religious coldness in Jesus name