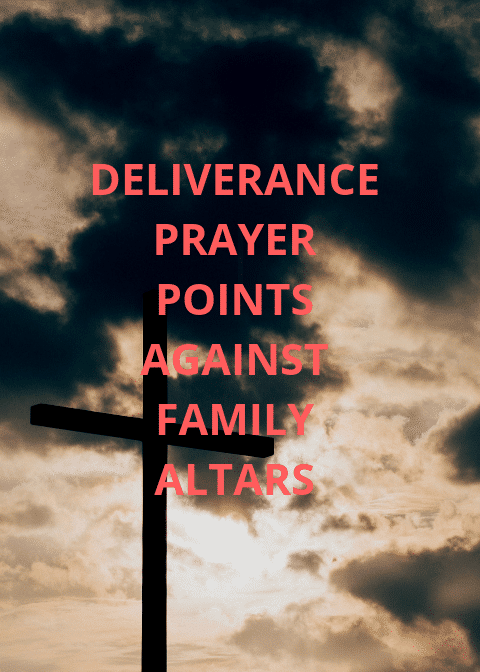 Exodus 34:13-14:
13 But ye shall destroy their altars, break their images, and cut down their groves: 14 For thou shalt worship no other god: for the Lord, whose name is Jealous, is a jealous God:
Today, we shall be engaging 20 Deliverance Prayer Points Against Family Altars. What is a family Altar? . Before we define that, let's first define what an altar is. An altar is a place of worship, in the old testament, we see that Gods children always built altars for the lord to worship him from time to time. ( See Genesis, 8:20, Genesis 22:9, Exodus 17:15, Leviticus 7:5.). The altar is where God dwell, today our body have become the altar of the Lord, He dwells in us as believers through the holy spirit. Now what is a family altar? , a family altar is a place where the family worship there God or gods. This deliverance prayer points is focusing on evil altars. Evil altars are altars dedicated to idols or idol worship. This altars are dedicated to evil spirits in the name of gods. This evil spirits remain in this families even long after the idols have been destroyed by civilization.
Africa as a continent was given to idol worship, long before Christianity came, a lot of families where worshiping different gods before civilization. This demonic spirits still torments there great great grandchildren today. Many families are under the bondage of family altars, this satanic altars keep speaking evil in the lives of the members of the families. Many families are suffering from issues like untimely death, barrenness, poverty, sicknesses and diseases, this are all issues from evil altars. Child of God, you must separate yourselves from this satanic covenants. You are a new creation, old things are passed away. This deliverance prayer points against family altars will destroy every altar that is speaking against you and your family members in Jesus name. As you rise up in prayers, every demonic stronghold in your family shall bow in the name of Jesus.
Engage this prayers with faith today, and you will see victory in your life in Jesus name. No matter what the devil is doing in your life, no matter the hold of the devil over your finances, you shall delivered today in Jesus name. Whoever Jesus sets free, its free forever, you are free forever, God bless you.
Prayer Points
1. Father, I thank you for delivering me from every evil altar, in the name of Jesus.
2. I curse you spirit enforcing evil altars in my life and I command you to release me, in the name of Jesus.
3. Let everything that has been transferred into my life by demonic laying of hands, loose its hold right now, in the name of Jesus.
4. Let every serpentine poison that has been passed into my life, get out now, in the name of Jesus. I flush you out with the blood of Jesus.
5. Let fire fall on every spirit of death and hell fashioned against my life, in the name of Jesus.
6. I break the head and crush the tail of every serpentine spirit, in the name of Jesus.
7. Let every satanic altar that have been introduced into my family, receive the fire of God in Jesus name.
8. Let the sword of fire begin to cut off every evil parental attachment, in the mighty name of Jesus.
9. Father Lord, reveal to me any hidden covenant that the devil has arranged against me, in the name of Jesus.
10. Every tree that the Father did not plant in my life, be uprooted, in the name of Jesus.
11. Father Lord, I electrify the ground of this place now. Let every evil altar begin to shatter now, in the name of Jesus.
12. Let every evil hidden covenant break, in the mighty name of Jesus.
13. I refuse to drink from the fountain of sorrow, in Jesus name.
14. I take authority over all curses issued against my life from evil altars, in the name of Jesus.
15. Father, by the blood of Jesus, wash away every curse placed upon my life by evil altars in Jesus name.
16. I command any demon attached to any curse to depart from me now, in the mighty name of our Lord Jesus Christ.
17. Let all curses issued against me be converted to blessings, in the name of Jesus.
18. Every curse of mental and physical sickness Be broken, be broken, be broken, in the name of Jesus. I release myself from you, in the name of Jesus."
19. There shall be no more poverty, sickness, etc. in my life, in Jesus' name.
20. Father, I thank you for answering my prayers in Jesus name