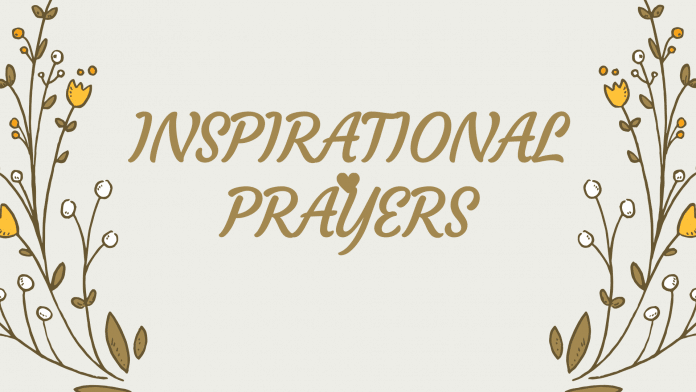 James 1:2:My brethren, count it all joy when ye fall into divers temptations;
Difficult times are times of trials when our faith and strength is been tempted but to make our faith strong and make us stand firm in the Lord. Today we are looking at some inspirational prayers that will enable us overcome difficult times. No matter how radiant and pleasant our life is, we will definitely still experiencing our trying moments, it is sacrosanct like the air we breath like the water we drink. So when the time comes for us to experience a bit of difficulty, how we accept the temporary moment until we see our victory at the end matters. Job experience a difficult moment, his hope and trust in God helped him conquer all.
In life, difficult times will definitely come, our faith will be tested, but we should never let them define who we are, you may have questions in your heart, as a Christian, you believe you are supposed to be blessed, live a perfect life because the spirit of the perfect God is in you. Challenges and hurdles may be in your way, you have prayed, fasted, study the word, received Revelation but nothing is changing, even Abraham the father of faith has questions in his heart so who are you not have questions on the circumstances you find yourself, but do not let those circumstances define you, Jesus has overcome the world for you, all you need is Joy in your heart to accept the fact that those pain, challenges, sickness, hardship are not to bring you down but prepare you for the glory that is to be revealed in you.
Even Jesus felt this pain, he knew that it wasn't going to be easy and God understood him so he sent an angel to strengthen him Luke 22:39-44, in the end, our Saviour was glorified and highly exalted. Jesus overcame, he is the image we are looking at, to be like him and before we can be transformed to that image, for that glory to also radiates in our lives we have to pass through the same process (No servant can be greater than his master) tough times don't live a Christian bitter but makes them better because there is revelation of the joy that they will experience in the future, so we bring that joy into the present and our lives become wonder.
Joy is an acknowledgment of our victory in Christ Jesus. We may work very hard but "Blood and strength will only take us there (where we think we ought to be) but only grace and Joy through the Holy Spirit will take us further to where God wants us to be. No matter the difficulties, our victory is sure because Christ has overcome the world for us, and he will never leave you comfortless, so know this in your heart that;
"Even though the fig tree does not bud and there are no grapes on the vines, though the olive crop fails and the fields produce no food, though there are no sheep in the pen and no cattle in the stalls, yet I rejoice in the Lord, I will be joyful in God my Saviour because the Sovereign Lord is my strength; he makes my feet like the feet of a deer, he enables me to tread on the heights so I know vividly that difficult times will never leave me bitter but make me better.
There are some keys that we must have to determine our victories in difficult times;
1. Be born again genuinely 1 Peter 1:23
2. Walking in the Spirit Galatians 5:16
3. Love and Forgiveness 1John 4:7-11
4. Keep the word of God in your heart 1John 2:14
5. The consciousness of your victory Psalm 16
Here are some inspirational prayers we should pray when in times of difficulties;
PRAYERS
1. O Lord thank you for the gift of life in these difficult times, thank you because even though things are not going the way they should, you are still my strength and I know vividly in my heart that you will help me overcome.
2. Father, thank You that even when all others leave and abandon me, You remain. Thank You that even when the ones I thought would be with me forever choose to go, I can trust that you will stand with me forever
3. Father, I come to You with my cares and my worries concerning the difficulties I am facing. I want to hear you, lord, reminding me that I am not alone.
4. Father, I know you are standing with me, and I receive your strength to stand another day in days of trial and difficulties in the name of Jesus.
5. Lord I trust you that you will rescue me from these difficulties and every trial I will face in this life in Jesus name.
6. Father, I pray that you give me the strength I need not go astray and to stand firm in my faith during the time of difficulties in the name of Jesus.
7. Father I know my circumstances are no match for Your great power, I pray O Lord that you keep me under your fortress, that you Lord protect me I hard times so I may not fall into the trap of evil in the name of Jesus.
8. I pray O Lord that you decree my victory over every trial and difficulty that I may face, give me the grace to follow you and always do your will in the name of Jesus.
9. Father the pressures of life sometimes push me into a corner, rendering me helpless to move forward. Sometimes I feel paralyzed in my spirit not knowing where to turn. Lord, help me not to quit, to keep running the race faithfully, and to find strength in that safe, secret place of yours, under the shadow of the Almighty in the name of Jesus.
10. Lord, I pray that whenever I feel weary and my strength diminishes that you Lord renew my strength, fill me with your supernatural power to overcome each obstacle in my path. With my eyes on you, Lord, with you walking beside me, working through me, I can make it. Thank you, Lord. In Jesus name we I pray.