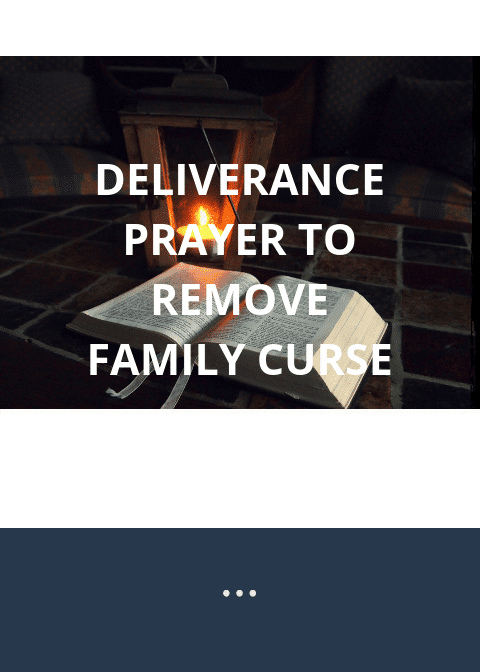 Numbers 23:23:
23 Surely there is no enchantment against Jacob, neither is there any divination against Israel: according to this time it shall be said of Jacob and of Israel, What hath God wrought!
A family curse can be defined as a satanic hold or entrapment over a family. This satanic hold can be in a family for generations, until the hold is broken, the family and her members will remain in perpetual bondage. Today we shall be engaging 20 deliverance prayer to remove family curse. This deliverance prayer is your ticket to freedom from every form of family bondage. A lot of people suffer a lot of setback, and all kinds of calamity simply because of the curse on their families. For instance the generation of gehazi suffered from leprosy as a result of the curse in the family, 2 Kings 5:27. You may be suffering from a curse in your family that you don't know anything about, it might even be as a result of the sins of your ancestors that your family is in bondage, but today, as you engage this deliverance prayer to remove family curse, I see all curses in your family broken forever in Jesus name.
The greatest form of deliverance is self deliverance, this is deliverance by the word of God and through prayers. Before we go into the deliverance prayers, I want you to know some things about your status in Christ and also about curses. Below are biblical facts that establishes the fact that you cannot be under a curse.
10 Bible Verses That Can Set You Free From Family Curses
1). You cannot Be Cursed. Galatians 3:13.
2). You cannot be Under A Spell. Numbers 23:23
3). You have power over devils. Luke 10:19
4). You are seated with Christ in High Places. Ephesians 2:6
5). We are far above principalities and powers. Ephesians 1:21
6). We have been transferred from darkness to light. Colossians 1:13.
7). We have the Holy Ghost in us. Acts 1:8
8). The greater one lives inside us. 1 John 4:4
9). We can do the impossible. Mark 9:23
10). We are born of God. John 1:13.
The above bible verses and knowledge is what you need to know to be free from family curses. When you prayer with understanding, you get outstanding results. My prayer for you today is this as you engage this deliverance prayer to remove family curse, armed with these understanding, you shall be unstoppable in Jesus name. I declare that as you engage in this deliverance prayer with faith today all the curses of the devil holding your family down shall be destroyed forever in Jesus name.
Prayer Points
1. Father, I thank you for delivering my family by the Blood of your Son Jesus Christ.
2. Father, by your mercy and through the blood of Jesus Christ, wash away every sin in my family in Jesus name.
3. Father, let your mercy overrule every judgment of the devil against my family in Jesus name.
4. I overrule every curse of hell against my life in Jesus name
5. I decree null and void every evil pronouncement upon my family in Jesus name
6. I decree an end to every enchantments working against my family in Jesus name
7. I deliver myself from every form of generational curse and bondage in Jesus name
8. I deliver myself from every consequences of the sins of my fathers in Jesus name
9. The wicked shall die for his wickedness, I declare that myself and my family shall not suffer for the wickedness of our fathers in Jesus name
10. Every tongue that rises against me in judgment today, I condemn it in Jesus name
11. I and my family we rise above curses in Jesus name
12. I declare total family deliverance from the spirit of poverty in Jesus name
13. I declare total family deliverance from the spirit of barrenness in Jesus name
14. I declare total family deliverance from the spirit of stagnation in Jesus name
15. I declare total family deliverance from the spirit of near success syndrome in Jesus name
16. I declare total family deliverance from the spirit of premature death in Jesus name
17. I declare total family deliverance from the spirit of ups and downs in Jesus name
18. I declare total family deliverance from the spirit of sicknesses and diseases in Jesus name
19. I declare total family deliverance from all forms of curses in Jesus name
20. Father, I thank you for my total deliverance and that of my entire family in Jesus name