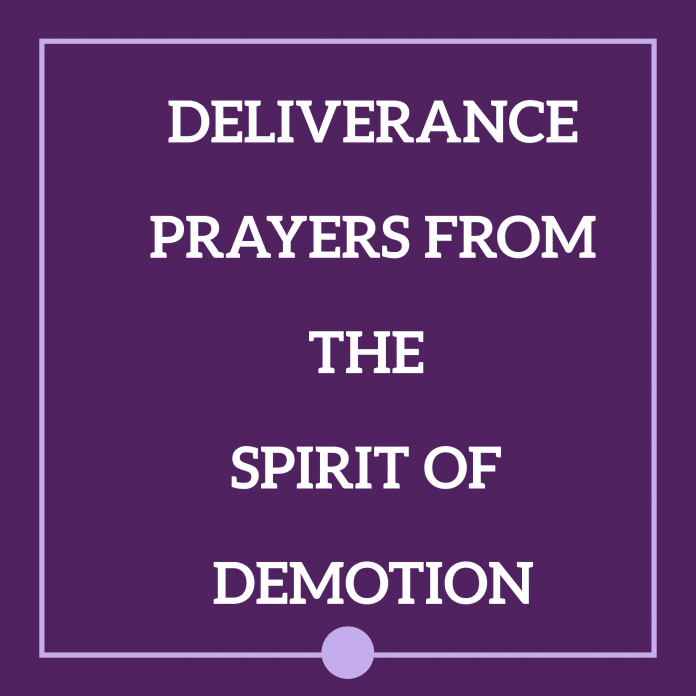 Deuteronomy 28:13 And the LORD shall make thee the head, and not the tail; and thou shalt be above only, and thou shalt not be beneath; if that thou hearken unto the commandments of the LORD thy God, which I command thee this day, to observe and to do them:
Every child of God is ordained to live a higher life. No child of God is born to suffer in life. By predestination, we all are ordained for promotion only and never demotion. Today we shall be looking at at deliverance prayers from the spirit of Demotion. Demotion is controlled by an evil spirit of the devil. This is why you see a lot of belivers suffering from ups and downs, today they are up, tommorow they are down. Once upon a time they are rich, and after some time the are back to poverty.
This deliverance prayers will empower you to break free from every shackles of stagnation and backwardness the devil may have placed in your life and destiny. As you engage this deliverance prayers, you shall take your deliverance by force and put the devil and his agents to shame for life.
What Is Demotion?
Demotion means to be brought down, removed, displaced from a higher level of authority to a lower level or to no level at all. It also means to be brought down from a lofty and glorious position to a humiliating and degrading one. Demotion means to be brought from the head to the tail in life.
Every form of demotion is not the will of God for our lives.Gog said in His word that we shall always and only be head and not tail, Deuteronomy 28:13. This simply implies that the perfect will of God for us is to be ontop only. No one serves God and go down in life. No one follows God with all his or her heart and end up demoted in life.
Demotion is of the devil, the devil is always looking for ways to bring God's cchildren down in life. He deceived Adam and Eve in the garden and demoted man from divinity to humanity, man was demoted from immortatlity to mortality, man became dust. That is the work of the devil. Thanks be to God that through Christ Jesus mankind has now been restored to His rightful position. The devil demoted humanity, but Jesus have promoted us forever, hallelujah!!!. Through this dliverance prayers today, you too shall be free from the spirit of demotion in Jesus Christ name. But how do i overcome the spirit of demotion?
How To Overcome The Spirit Of Demotion?
Psalms 28:1 Unto thee will I cry, O LORD my rock; be not silent to me: lest, if thou be silent to me, I become like them that go down into the pit.
Prayerfulness is the key to destroying the powers of the spirit of demotion in your life. As a child of God, the only way to overcome the spirit of demotion in your life is through the word of God and prayers. Prayer is ther key to a life of continual promotions, promotions in every areas of your life. Everytime you pray, you let God know that both of you are in thesame team. when God is in your team, your success is sure. I dont care how far the devil and circumstances have brought you down, as you committ to studying the word of God and prayers, every force of demotion in your lfe shall be destroyed forrever in Jesus name. I have carefully selected some deliverance prayers that will set you free from the spirit of demotion. Pray this prayers with faith today and you shall share your testimonies of promotion in Jesus Christ name
Deliverance Prayers
1. Father, I thank You for your mighty hand upon my life and destiny in Jesus name.
2. Father, i receive mercy from all my shortcomings, forgive me Lord in Jesus name
3. Every goliath fighting my promotion, be scattered now by fire in Jesus name
4. Every witchcraft mirror manipulating my progress, scatter by fire now in Jesus name
5. Every hunter of my star shall be buried this year in the name of Jesus
6. Let every enemy of my promotion stumble and fall in the name of Jesus
7. Every river of trouble resisting my progress be dried up now in the name of Jesus Christ.
8. Every evil organisation fighting against my promotion, be disorganised now in the name of Jesus Christ
9. Oh God of signs and wonders, manifest your power in my life and businesses in Jesus name
10. The pharoah of my destiny, die now in the name of Jesus Christ
11. Any bewitched area of my life and destiny be destroyed now in the name of Jesus.
12. Every satanic in vestment or deposits, in my life and destiny, causing demotion in my life, i flush them out by the blood of Jesus
13. Every satanic agenda of the devil in my life to keep me demoted, i scatter them now!!! in the name of Jesus Christ.
14. Every witchcraft broom sweepng away my promotions, i roast that brooms with fire in the name of Jesus.
15. Every pharoah in my hometown fighting against my promotion be disgraced and destroyed in Jesus name
16. I enter into my prophetic destiny in the name of Jesus name
17. I receive divine speed in my pursuit in life in Jesus name
18. In all ares of my life, i shall experience all round promotions in Jesus name
20. I declare that i have an excellent spirit that is at work in me in Jesus name
21. I shall be the head and not the tail in Jesus name
Thank You Jesus Christ.