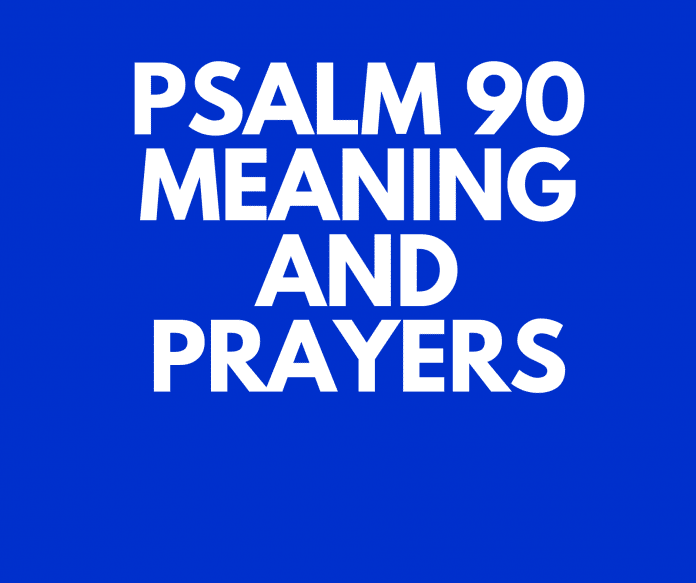 Today we shall be studying Psalm 90 meaning verse by verse. Psalm 90 was written by Prophet Moses. Psalm 90 clearly describes the awesomeness of God and shed light on the conundrum of human life and powerfully gives a word of hope to the existence and purpose of man.
At the beginning of the psalm, God is introduced as both a refuge and the Creator. The time of God is also brought into the picture i.e. His time is eternal, "from everlasting to everlasting. Later in the third verse man was described to be mortal i.e. death is inevitable, so the psalm also compares the infinity of God to man's temporal, fleeting time on earth.
Meaning of Psalm 90 verse by verse
Verse One: Lord, you have been our dwelling place throughout all generations.  This verse talks about dwelling place since the beginning of the creation which means God is our sanctuary for protection, sustenance, and stability, the is the one we look up to in times of trouble and difficulties. An example of this is the Prophet Moses; he was known to be very meek and depends entirely on God even before the red sea in exodus 14 and even when they were in the wilderness. So this verse tells us just as the LORD provided all of their needs in their journey, He will provide our needs if we stay in Him. He truly is Jehovah Jireh, their provider. We must learn a lesson from this.
Verse Two: Before the mountains were brought forth, or ever thou hadst formed the earth and the world, even from everlasting to everlasting, thou [art] God.
This verse two is talks about the infinity of God. From everlasting to everlasting": God's nature is without beginning or end, free from all succession of time, and contains in itself the cause of time. Compare (Psalm 102:27; Isa. 41:4; 1 Cor. 2:7; Eph. 1:4; 1 Tim. 6:16; Rev. 1:8, John 1:1-3). 
Verse Three: "Thou turnest man to destruction; and sayest, Return, ye children of men.
"Thou turnest man to destruction": Though different from the "dust" of (Gen. 3:19), this phrase is no doubt a reference to that passage. Humanity lives under a sovereign decree of death and cannot escape it. From dust thou art, and to dust thou shalt return. A man without God is but dust. We can see from the New Testament that our eternal life came from Jesus (the second Adam).1 Corinthians 15:45 "And so it is written, the first man Adam was made a living soul; the last Adam [was made] a quickening spirit. "Without Jesus, we are as the first Adam, flesh that will return to dust.
Verse Four: Psalm 90:4 "For a thousand years in thy sight [are but] as yesterday when it is past, and [as] a watch in the night."
"A watch in the night": A "watch" is 4 hours (compare Exodus 14:24; Lam. 2:19; 2 Peter 3:8). This means with God, time is nothing. It is only in His dealing with men that He regards to time. Some of the patriarchs lived nearly a thousand years; Moses knew this very well, and had recorded it: but what is their long life to God's eternal life. God is not controlled by time, as we are, but is rather the controller of time. Days and weeks and months are for this life, not for eternity. In heaven where God dwells, there is but one eternal day. There is no night at all.
Verse Five: Thou carriest them away as with a flood; they are [as] a sleep: in the morning [they are] like grass [which] groweth up.
"Like a flood": Humankind is snatched from the earth as though it were being swept away by floodwaters. "They are as a sleep": Humanity lives its existence as though asleep or in a coma. People are insensitive to the brevity of life and the reality of God's wrath. The flood is continually flowing, and they are carried away with it; as soon as we are born we begin to die, and every day of our life carries us so much nearer death.
Verse Six: "In the morning it flourisheth, and groweth up; in the evening it is cut down, and withereth."
 Man in the morning of his youth looks gay and beautiful, grows in the stature and strength of his body, and the endowments of his mind. This is very much like our life. We bloom when we are children and teenagers, but very soon old age comes, and we are gone. This life is like a wind that blows and then is gone. The only life worth living for is that eternal life with our Lord.
Verse 7: "For we are consumed by thine anger and by thy wrath are we troubled."
"Consumed by thine anger": The physical bodies of the human racewear out by the effects of God's judgment on sin in the universe i.e. Death is the wages of sin. God never intended for mankind to live so short a time. So our mortality is not accidental, neither was it inevitable in the original of our nature, but sin has provoked the Lord to anger, and therefore thus we die. For we are consumed by thine anger. Thank goodness, God provided a way for us to live forever; Jesus is the Way. Now when God looks at us, He is not angry. He sees the beautiful white linen garment of righteousness that Jesus gave us in exchange for our sins. He sees His adopted children.
Verse 8: "Thou hast set our iniquities before thee, our secret [sins] in the light of thy countenance.
"Light of thy countenance": All sin is in clear view to the "face" of God. There is no sin ever committed that God is not aware of. You may hide them from the world, but God knows every one of them. His Light searches the heart and soul of man and reads us like a book.
Verse 9: "For all our days are passed away in thy wrath: we spend our years as a tale [that is told].
 "As a tale": After struggling through this life of afflictions and troubles, a man's life ends with a moan of woe and weariness. When our life is nearing the end, we can look back and see it is like a short story that has been told. Praise God! Our death now is like moving from one beautiful room to a more beautiful one.
Verse 10: "The days of our years [are] threescore years and ten; and if because of strength [they be] fourscore years, yet [is] their strength labor and sorrow; for it is soon cut off, and we fly away.
"Threescore years or fourscore years": Moses lived to be 120 years old, and his "eye was not dim, nor his vigor abated" (Deut. 34:7), human life was usually briefer and lived under the anger of God. Because of this certain and speedy end, life is sad. Moses is saying that 70 years is the natural life span of a person on this earth. Some stronger people even live to be 80, but even at that, it is very short. In our day, a few are living to be 100 years old, but even that when measured against all of eternity, is but one tick on God's clock.
Verse 11: "Who knoweth the power of thine anger? Even according to thy fear, [so is] thy wrath.
Thine anger, thy fear, thy wrath": Instead of explaining away life's curses, a wise person will recognize God's wrath toward sin as the ultimate cause of all afflictions and consequently learn to fear God. In Exodus, we saw just a small glimpse of God's wrath, when He drowned the Egyptians in the sea.
Verse 12: So teach [us] to number our days, that we may apply [our] hearts unto wisdom.
"Number of our days": Evaluate the use of time in light of the brevity of life. "Hearts unto wisdom": Wisdom repudiates autonomy and focuses on the Lord's sovereignty and revelation. An event that causes someone to seriously reflect on his or her life has a purpose.
Verse 13: "Return, O LORD, how long? And let it repent thee concerning thy servants."
Come back to thy people; show mercy by sparing them. It would seem probable from this that the psalm was composed in a time of pestilence, or raging sickness, which threatened to sweep all the people away. "How long?  How long shall this continue? "And let it repent thee": That is, withdraw thy judgments, and be merciful as if thou didst repent.
Verse 14: "O satisfies us early with thy mercy; that we may rejoice and be glad all our days."
 Since everyone must die, and die so soon, the psalmist pleads for speedy mercy upon himself and his brethren. Good men know how to turn the darkest trials into arguments at the throne of grace. He who has but the heart to pray need never be without pleas in prayer. The only satisfying food for the Lord's people is the favor of God; Satisfy us at once, we pray thee. Our day is short and the night hastens on, O give us in the early morning of our days to be satisfied with thy favor, that all through our little day we may be happy.
Verse 15: Make us glad according to the days [wherein] thou hast afflicted us, [and] the years [wherein] we have seen evil.
A prayer that one's days of joy would equal his days of distress. Even the children of God have tribulation in this life. Sometimes the more tribulation you have, the more blessed will the heavenly reward be. One of the beautiful things, about this, is the wonderful welcome that Jesus gave Stephen after he had been stoned to death.
Verse 16 "Let thy work appear unto thy servants and thy glory unto their children.
 That is thy gracious work of interposition. Let us see thy power displayed in removing these calamities, and in restoring to us the days of health and prosperity. "And thy glory unto their children": The manifestation of thy character; the display of thy goodness, of thy power, and thy grace. Let this spreading and wasting evil be checked and removed, so that our children may live, and may have occasion to celebrate thy goodness, and to record the wonders of thy love. This is not speaking of man's work, but God's work.
Verse 17 "And let the beauty of the LORD our God be upon us: and establish thou the work of our hands upon us; yea, the work of our hands establish thou it.
The beauty of the LORD": The Lord's favor implies His delight and approval. Establish thou the work of our hands": By God's mercy and grace, one's life can have value, significance, the real beauty that we have, is Christ in us.
WHEN DO WE USE THIS PSALM
Are there parts of your day, activities in your life, which you don't consider needing to be dedicated according to God's Word and ways? Why? How might they indicate the source of spiritual tension in your life? This psalm will answer your questions
Do you approach every day as something entrusted to you by God, something to be properly invested for His kingdom? This psalm will show you the importance of each day that we live.
What's wrong with the thinking that you can always put something off until tomorrow? How well do you regard that you can never get a single, spent day back? Or that you probably have fewer days remaining in front of you than already are behind? This psalm will teach you that every day we get is a blessing, use it wisely.
PSALM 90 PRAYERS
Father, I thank you for your unconditional love upon my life in Jesus Christ name
Father, I ask that your mercy prevail over judgement in my life today in Jesus Christ name
Father, endue me with the Spirit of discernment now in the name of Jesus Christ.
Father, open my spiritual eyes to see what my physical eyes cannot see in the name of Jesus Christ.
Father, by the direction of the Holy Spirit, order my steps as I walk through the Journey of life Jesus Christ name
Father open my eyes to perceive evil before it overwhelms me in the name of Jesus Christ.
I declare today that my days of confusion are over in the name of Jesus Christ
I declare that my days of spiritual blindness are over in the name of Jesus Christ
I declare that the Spirit of discernment at work in my life in the name of Jesus Christ.
Heavenly Father, you said in your word, in James 1:5 that if any man lacks wisdom that he should ask of you who gives liberally to all without reproaching. Lord, I therefore acknowledge that I need the wisdom that only you can give, pour upon me your Spirit of wisdom in its fullest measure in the name of Jesus.
Lord I ask according to the book of Ephesians 1 from verse 16, that you give me the Spirit of wisdom and revelation in the Knowledge of you, the eyes of my heart being enlightened that I may know the hope of your calling and the riches of your glorious inheritance in the saints and the immeasurable greatness of your power towards me who believe according to the working of your great might in Jesus name.
Heavenly Father, I don't want to keep on making mistakes and wrong turns in life, give me the Spirit of wisdom and discernment so that I can know those hidden wisdom that has been prepared for my glory. Sweet Holy Spirit according to the book of 1cor 2, I ask that you search the mind of God and reveal these things to me in Jesus name.
Father I ask according to the book of Colossians 1:9, I ask that you fill me with the knowledge of your will in all wisdom and spiritual understanding so that I may walk worthy of the lord, fully pleasing Him and increasing in the knowledge of God in Jesus name.
Lord, I ask that you give unto me a discerning Spirit so that I can make the right decisions at all times, that even when your instructions seem foolish I will obey them nonetheless, knowing that they will help me live directly in the center of your will in Jesus name.