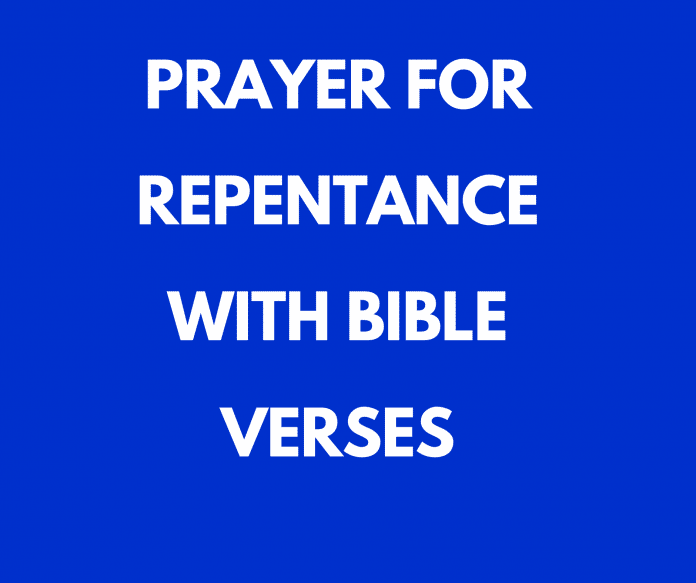 In our Christian Life, After Salvation and Redemption, Repentance is no doubt one of the most used words. Because there is no way, a sinner can be converted without repentance. The word Repentance means to turn or change from some specific ways or styles of doing things. What is worthy of note is that if there were no sin, there would not be any need for repentance. And a man cannot repent unless he has seen and admitted the bad things he has done. It takes a man who has a broken and a contrite heart to walk through the part of repentance.
Kindly Subscribe To Our YouTube Channel To Watch Daily Powerful Prayer Videos
Meanwhile, the book of Ezekiel 18 – 23, Have I any pleasure in the death of the wicked, declares the Lord GOD, and not instead that he should turn from his way and live? God made it known that He takes no pleasure in the death of a sinner. This means God doesn't have joy in seeing a sinner die, but he takes more pleasure when a sinner is converted.
Little wonder, Jesus told the story of the prodigal son. The parable of the prodigal son describes how God takes delight in a sinner who repented from his evil ways. Recall that the prodigal son went away with his inheritance and spent everything lavishly when he got broke, he remembered his rich father. He made way to return home to his father, but not a child, but to seek his mercy to be made one of his slaves. Jesus narrated how the father celebrated the return of the prodigal son and even reinstated him to his rightful position as a son and not slave. This illustration explains that heaven rejoices at the return of a lost sheep.
Furthermore, Jesus also told the story of a shepherd that left his herds of cattle to go in search of a lost sheep. All these stories are to make us see how much God values repentance. The original design of man is sinful, and it takes a conscious effort with help from the holy spirit to overcome sin and see it as an abomination.
Some people want to repent, but they have no clue how to do that, worry less, this article is for you. We will be highlighting some prayer for repentance with Bible verses.  Your time for salvation has just come, remember, the first step is to confess your sin to God, remember the Bible says he that hides his sin shall not prosper, but he that confesses them shall find mercy.
Once you have confessed your sin, make a conscious decision not to do them again, that is your first step towards repentance. After making a decision not to return to your mess, you must adopt a new culture and style of living which can be found in Christ Jesus.
Kindly Subscribe To Our YouTube Channel To Watch Daily Powerful Prayer Videos
Let me take you through some prayer for repentance with Bible verses.
Lord Jesus, I feel sorry for all my evil deeds. I have never felt this guilty until. I learned about you and how much you detest the evil things that I used to do. I was so scared that I may die as a punishment for my evil deeds. However, I gained strength from your word that says that you delight not in the death of a sinner, but you are happy when they repent. Because of this, I ask that you will create in me a clean heart, and you will renew the right spirit within me. Grant me your holy spirit and power that will help me to stay away from sin in the name of Jesus.
James 4:8 Draw near to God, and He will draw near to you. Cleanse your hands, you sinners; and purify your hearts, you double-minded.
Father Lord, I have listened to the loud voice of the enemy, and I turned a deaf ear to your spirit. I'm sorry for all I have done. I allowed myself to be deceived by the devil, and I was carried away by the things of the world. I lost my gaze upon the cross as I wallow in toxic of impurity. Sin has overcome me, and by every standard, I have been condemned. My heart is so bitter that I fear that I might not be forgiven, but this is my plea, Christ has died. He has spilled the blood on the cross of Calvary for my sake, on this, have I stand as I announce my permanent retirement in the workforce of sin and iniquity. I confess my sin before you, Lord, because to you alone have I sinned and done a great evil in your sight.  Lord, I ask that you will forgive me and receive back into your palace in the name of Jesus.
Acts 3 vs 19 Repent, then, and turn to God so that your sins may be wiped out, that times of refreshing may come from the Lord.
Father Lord, nothing is as painful as me knowing that my sin hurts you badly. When I remember the price you paid at the cross of Calvary, I can not resist the pain and anguish in my heart for disappointing you after you invested so much trust in me that even caused you to lay down your life for me. And yes, I know that your love to us knows no boundary, I have realized my faults, and I'm greatly pained for doing them. I pray that you will wash with the blood of Christ, and I shall be clean, wash me, and I shall be whiter than snow. I pray that you will cause me to be dead to sin from now and be alive to righteousness.
Joel 2-13 So rend your heart, and not your garments; Return to the Lord your God,For He is gracious and merciful, Slow to anger, and of great kindness; And He relents from doing harm.
Lord God, I thank you for the grace you have given us always to find our way back to you when we sin.  Thank you because sin doesn't disqualify us from getting back to you.
Father Lord, I can't hide the fact that I'm a sinner who needs help, and I confess my sin before you this day that I may find compassion before you. You are the God of restoration. I ask that you will restore me. The scripture says he that hides his sin shall not prosper, but he who confesses them shall find mercy. All I seek is your mercy, as my soul is plunged unto repentance, I ask that you will have mercy on me, and you will show me kindness in the name of Jesus.
Proverbs 28: 13  He who covers his sins will not prosper, But whoever confesses and forsakes them will have mercy
Kindly Subscribe To Our YouTube Channel To Watch Daily Powerful Prayer Videos