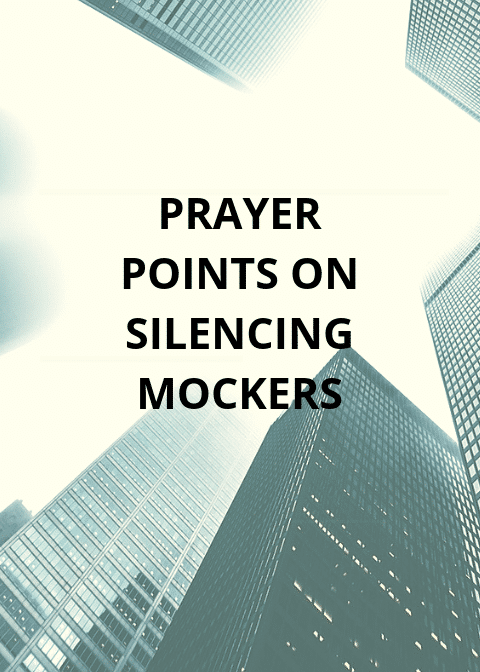 Psalm 8:1-2:
1 O Lord our Lord, how excellent is thy name in all the earth! who hast set thy glory above the heavens. 2 Out of the mouth of babes and sucklings hast thou ordained strength because of thine enemies, that thou mightest still the enemy and the avenger.
When men begin to mock you, rejoice!!! Because God is about to make you. Today I have compiled 30 prayer points on silencing mockers. The God whom we serve is a God who silences mockers. In Genesis 21:1, we see that God visited Abraham and Sarah with a son called Isaac which means laughter to silence there mockers, In the book of 1 Samuel 1:1-28, we see how God silenced the mouth of peninah by given Hannah a son and even five other children ( Sons and daughters). We serve a God that knows how to shut the mouth of mockers. I don't know where or who is mocking you right now, as you pray this prayer points today God will dumbfound all your mockers in Jesus name.
Stop crying!!!! And start praying!!!! Crying don't solve problems, praying does. Rise up like Hannah and plead your case before the lord, cry to Him with all your heart do not let your mockers discourage you, remember, it is not just you that they have mocked, but they have also mocked your God. Remember the story of Hezekiah and king Sennacherib of Assyria, how the king of Assyria mocked the God of Isreal, he said a lot of blasphemous words against the God of Isreal and also mocked the Israelites. But what did Hezekiah do? He went to the house of God and presented the letters of blasphemy and mockery from the king of Assyria to God and cried to the Lord in prayers, what happened after then? Our God arose and through just one angel, over 185,000 soldier where destroyed overnight and the king of Assyria was killed the next day by his own soldiers. See 2 Kings 18:1-37, 2 Kings 19:1-37.
I had a story of a woman who was always out for evangelism and while she was preaching one day a closed neighbor interrupted her and said, "if this your Jesus is God, how come you are still a barren woman with no child. Can't your Jesus give you a child?" And the woman walk away with a broken heart and turned to Jesus saying, " Jesus it is you that the are asking, please answer them" and to God alone be all the glory, the barren woman conceived that year and had triplets two boys and a girl. Our God is a " mockers silencing God". Engage this prayer points with faith and expect your miracles in Jesus name.
30 Prayer Points On Silencing Mockers
1. Oh God, arise and silence every mocker of my life in Jesus name
2. Father, arise and defend me, take away shame and reproach from my life in Jesus name
3. Father by your blood erase this stigma ( mention them) from my life in Jesus name.
4. Father, cause those who are laughing at me to be dumbfounded at my testimonies in Jesus name
5. Father take me from the realm of pity to the realm of envy in Jesus name
6. Father do not let my life end in the pit in Jesus name
7. Jehovah, God of war, fight all the battles of my life in Jesus name.
8. Father, by the power in the name of Jesus, I separate myself from every affiliations of the devil in Jesus name
9. Father, do a new thing in my life that will change my status in Jesus name
10. Father give me the joy of my heart ( mention them) in Jesus name.
11. I declare that no weapon fashioned against me shall prosper in Jesus name
12. I decree that I shall be exempted from all the fiery traps of the enemies in Jesus name
13. I decree that all those who laugh at me will come and laugh with me in Jesus name
14. I decree that my testimonies will make all my mockers come to Jesus in Jesus' name
15. I declare that the impossible shall be made possible in my life in Jesus name
16. I declare that I shall share the testimonies of all my challenges in Jesus name.
17. I declare that concerning the issues of my life, I shall laugh at last in Jesus name
18. I decree that all those who are avoiding me today shall soon start running after me for help in Jesus name
19. I decree that I shall be a voice in my family in Jesus name.
20. I decree that no devil shall prevail against me successfully in Jesus name.
21. Father let all those who are resisting my progress be eliminated in Jesus name
22. Let all those who look down on me today begin to look up to me in Jesus name
23. Father oppress my oppressors in Jesus name
24. Father, trouble my troubles in Jesus name
25. Father fight against those who fight against me.
26. Father pursue my pursuers and overtake them in Jesus name
27. Father, turn every evil counsel of my enemies against me to foolishness in Jesus name.
28. Father arise and defend me from the hand of the wicked one
29. Oh Lord let the wickedness of the wicked cokne to an end in my life in Jesus name
30. Father thank you for silencing my mockers in Jesus name.