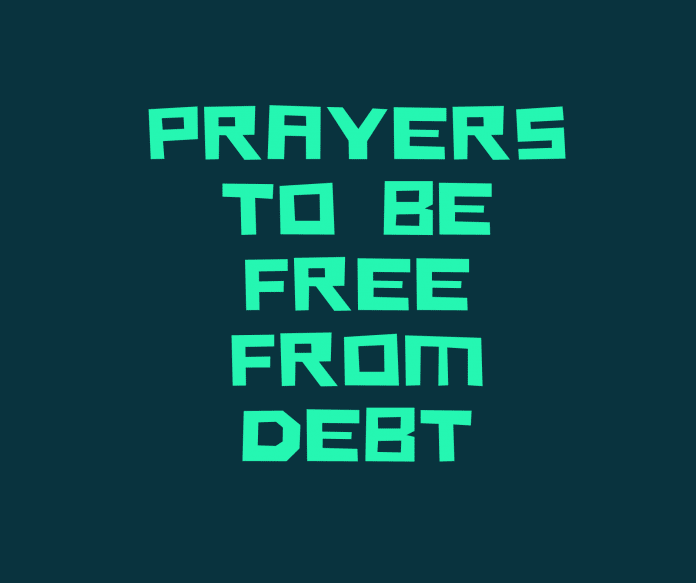 Proverbs 22:7: The rich rule over the poor, and the borrower is slave to the lender.
Praying to be debt free is very important as individuals and as a nation because debt is a yoke and a form of slavery. The bible in the book of Proverbs 22:7 makes it clear to us that the rich rules over the poor and the borrower is the slave to the lender. Many a times life can be quite demanding to the point where we might begin to struggle to meet up to the demands all by ourselves especially when it is a financial demand.
Most people earn little and yet have a lot of responsibilities to cater for. There is the children's school fee to pay, house rent to pay, close relatives to take care of and many more and all of these are banking on one meagre income that is being gotten monthly. And because of this most people are pushed to take loans, borrow from friends or in some systems buy all they need using credit cards and most times even before their income arrives they already have a large amount of debt to clear off.
The reality is that the relief gotten from debts is only temporary, it only lasts for the period in which those needs are catered for after which fear and how to pay it begins to creep in. a lot of individuals have died of heart attack gotten because of debts while some have had to spend a large part of their lives in jail for this cause.
Unfortunately this is not the will of God for us and that is why He tells us in Deuteronomy 28:12 that He will open to us His good treasury, the heavens to give rain to our land in its season and to bless the work of our hands; and we shall lend to many nations but shall not borrow. Scripture also tells us that Christ by His death became poor that we might become rich, 2 Corinthians 8:9. God already understood before time that one of the greatest needs of man is the need for sustenance and financial stability and so God designed a system that allows everyone who identifies with Him to be lenders only and not borrowers. This is why He tells us in the book of Phil 4:19 that is not just because He wants us to be wealthy but because He wants to help us do away with the slavery that debt brings.
The problem is that most times we are trying to carry our financial burden all by ourselves and because of that, we end up making decisions that turn out to be detrimental to our own peace. Christ tells us in the book of Matthew 6:25, that we should not worry about our life, what we will eat or what will drink, nor about our life, what we will eat or what we will drink, nor about what we will put on for our Heavenly Father knows that we have need of those things. It is true that sometimes these needs can become quite burdensome that we almost think we will waste more time when we decide to first take out time to pray about them.
However in those times too God expects us to come and lay those burdens at His feet. He says we should come to Him when we labor and are heavy laden so that He can give us rest, He says we should take His yoke upon us for His yoke is easy and His burden is light.
The book of 2Kings 4:1-7 tells us the story of a poor widow who was previously married to a prophet. How that times prophet had incurred a lot of debt before his demise and now at his death, his creditors demanded to have his two sons as slaves in compensation for the debt of their father. The widow out of despair had to go and cry for help from the prophet Elisha and God had to use the prophet to open their eyes to the way out of every debt. The truth is God already has a way out of every debt situation, all He needs to do is to open our eyes to see these things and this is why we must not stop praying these prayers. He tells us in the book of 1cor 10 that there is no temptation that is not common to man, but that in the midst of it all, He has already made a way of escape. So the very first thing to do in a situation of a debt is to first understand that through that debt came as a result of pressures, our desire for self-satisfaction, our own carelessness or whatever the case may be that God has already made a way of escape for us. He tells us in Galatians 5:1 that we should stand first in the liberty wherewith He has made us free and we should not be entangled again with a yoke of bondage. Sometimes these yoke can also be in form of debt, however God has already made us free even before now.
It is with this understanding that we are going to pray the following prayers. Whether you are the one who is directly involved in the situation of debt or it is someone very close to you, these prayers to be debt free has the power to change the status of a believer from a borrower to a lender.
PRAYERS
• Father I thank you because your will for me is to be debt free, you said in your word that I will lend to many nations and not borrow. I therefore ask according to your will that you take away this burden of debt from me and that from henceforth I will only lend to people and not borrow in Jesus name.
• Lord I ask that in whatever way I brought this burden upon myself through indiscipline or selfish desires, I ask that you have mercy upon me and that you have mercy on me and hence-forth help to be more disciplined in the area of my finances in Jesus name.
• You said in your word in Galatians 5 that I should stand fast in the liberty wherewith you have made me free and I should not be entangled again with a yoke of bondage. I therefore declare that I am free from the yoke of debt and therefore from henceforth I cease to be a debtor of any sort in Jesus name.
• Lord I declare according to your word that you have supplied all my needs according to your riches in glory by Christ Jesus and therefore I receive all the provision I need to pay all my debts and to also cater for other current needs in my life in Jesus name.
• Heavenly Father, your word said in the book of Proverbs that the heart of a king is in your hands and like rivers of water that you turn it wither way you want. Lord, I ask that you touch the heart of those who I am indebted to write off my debts and give me the grace to become more financially stable in Jesus name.
• Lord you said in your word that I should be anxious for nothing but to pray about everything. I therefore ask that you will help me to trust you more as regards my finances and to worry less about how my sustenance will come so that I will always avoid running into debt in Jesus name.
• Father, open my eyes to see what to do to be free from this debt forever in the name of Jesus Christ.
• Father, deliver me from every sin, evil habits and evill associations that have caused debt in my life in the name of Jesus Christ.
• Father, just as the blood of Jesus Christ wiped away my sins, Let that same blood wipe away all my debts in the name of Jesus Christ.
• Thank you Jesus Christ for answers to my prayers.