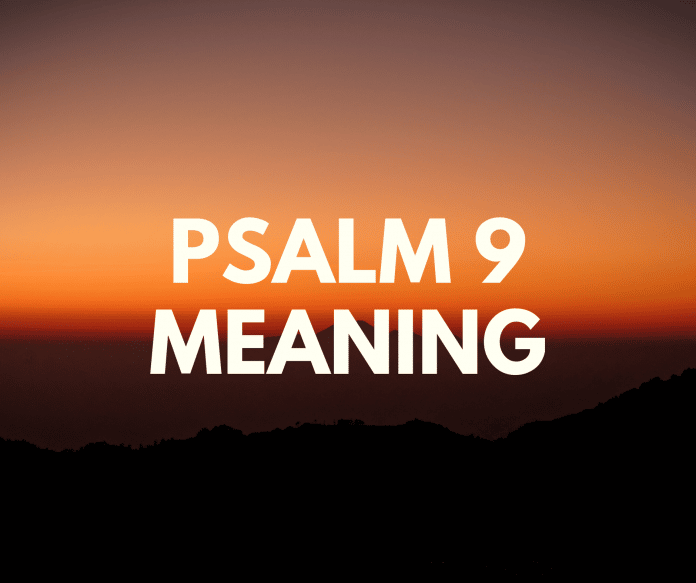 In today's study of the Psalms, we would be looking at Psalm 9 the message verse by verse. Psalm 9  is a psalm of appreciation and recognition of God's unfailing justice. The writer, going by the progression of his thoughts seem to have encountered or experienced God as a justified. And by this, he has realized that God justifies the oppressed ones as well as he sees to it that the wicked do not go unpunished. Psalm 9 the message verse by verse also reveals that God is a defender of those who live rightly but are treated unfairly. The psalmist knows this beyond doubt and because of this he can confidently go to God to deliver him from the hands of his oppressors.
This is the same for so many. We sometimes find ourselves in situations where we are unfairly treated by those who are against us for living justly. However for most of us, we are yet to fully grasp God's system of justice for we his children, and because of that, we continue in a cycle of oppression time and again. As you read through the testimony of the psalmist in psalms 9 from verse by verse, you'll understand God's love and willingness to vindicate you from all unfair actions taken against you.
PSALM 9 MEANING VERSE BY VERSE.
Verse 1 and 2: I will praise there, O lord, with my whole heart; I will shew forth all thy marvellous works. I will be glad and rejoice in thee: I will sing praise to thy name, O thou most high.
It is quite obvious that the psalmist here had witnessed the goodness of God in his life and could not hold back his praises. He was ready to praise God with the whole of his heart; In other words, with everything he has got. This is what you do when you understand and have experienced the justice of God in your life. Interestingly, he even had works to show for it, he had proof! And what are these proofs? We will see them in the seceeding verses.
Verse 3: When my enemies are turned back, they shall fall and perish at thy presence.
This is a statement of confidence that comes from an experience. Our God is all powerful and greater than any force that ever exists. Our enemies will definitely always turn their back when he stands in defence for us. This is what the psalmist had seen that gave him so much confidence. He didn't need to bother about the existence of his enemies because he was sure that they would surely perish.
Verse 4: For thou hast maintained my right and my cause: thou satest in the throne judging right.
 This is one of the works that the psalmist had to show forth. He had seen God judge rightly on his behalf. Vindicating and favouring him in judgement. And not just on a singular occassion, but consistently. God is fair and honest in his judgements and he is ready to judge rightly on behalf of his children time and again.
Verse 5 and 6: Thou hast rebuked the heathen, thou hast destroyed the wicked, thou hast put out their name forever and ever. O thou enemy, destructions are come to a perpetual end: and thou hast destroyed cities; their memorial is perished with them.
Sometimes we think God allows the wicked to have their way while the righteous have a hard time pitting up with them. But here, we see that the faithfulness of God and his love for the just causes him to destroy the wicked even to the point of erasing their name from posterity. This was the testimony of the psalmist. He had seen God rebuke both individuals and nations who did unjustly and he was sure that he would do it again. He knew surely that his enemies were doomed forever. This tells us therefore that no matter how unfairly wicked men have treated us, God always knows how to rebuke them and when he does it, it remains permanent.
Verse 7&8: But the lord shall endure forever; he hath prepared his throne for judgement. And he shall judge the world in righteousness, he shall minister judgement to the people in uprightness.
Here again God is revealed to us a righteous judge; one who judges in righteousness. He remains true to his judgements time and again even when everything else fails. He judges both individuals and nations according to their deeds. This is supposed to serve as an assurance for we his children that our God never fails and he is going to just rightly all that concerns us in due season.
Verse 9: The lord also will be a judge for the oppressed, a refuge in times of trouble.
God's style of justice is not just based on the power or authority he has, but on the fatherly love he has for us. This is why as a way of justifying the righteous, he protects them. He keeps them away from all their oppressors, preventing them from even coming close. He also ensures that they are kept safe when trouble comes knocking. He knows that their adversaries would definitely come after them and so he ensures that they are completely protected and secured.
Verse 10: And they that know thy name will put their trust in thee: for thou Lord hast not forsaken them that seek thee.
Certainly!!! As many as have known God as a just judge will definitely trust him. They have witnessed him deliver them from the hands of their enemies. They have seen him vindicate them justly and now they can be sure that he would do the same over and again. He has never forsaken anyone who trusts in him completely and he never will!
Verse 11: Sing praises to the Lord which dwelleth in Zion: declare among the people his doings.
 At the awe of God's continuous faithfulness and justice, the psalmist calls out the entire nation to sing God's praises and share the testimony of his deeds to all and sundry. This surely is what you will do when you begin to experience the justice of God in your life and affairs.
Verse 12: When he maketh inquisition for blood, he remembered them: he forgeteth not the cry of the humble.
God remembers those who cry to him for justice for their blood shed. He avenues their murder and requires their blood from the hands of those who killed them. He does not look away from the upright and the humble one's when they cry to him for help. He is all faithful and just to forget their cries.
Verse 13&14: Have mercy upon me o lord; consider my trouble which I suffer of them that hate thee, thou that liftest me from the gates of death. That I may shew forth all thy praise in the gates of the daughter of Zion: I will rejoice in thy salvation.
One of the major characteristics of God's justice system is his mercy; his compassion and his ability to look away from our flaws. This is why even though we aware if his love for us we must always seek his mercy when we desire his justice knowing that we are not perfect. We need his mercy to deliver us from us from our troubles and the oppression of our enemies. Only then, can we show forth his praises before men. Also, God takes delight in our praises and he will ensure that we from all oppressions just so that we can praise him.
Verse 15&16: The heathen are sunk down in the pit that they made: in the net which they hid is their own foot taken.
The Lord is known by the judgement which he execute: the wicked is snared in the work of his own hands. As part of his system of justifying the upright, God ensures that the wicked reaps the fruit of their own labour. Though they make plans for the upright, God sees to it that they are the full beneficiaries of those plans.
Verse 17: The wicked shall be turned into hell, and the nations that forget God.
 This is the destination of all who live wickedly and unjustly, both individuals and nations. God decrees his justice on them and sends them to hell.
Verse 18: For the needy shall not always be forgotten: the expectation of the poor shall not perish forever.
As against the plight of the wicked, the righteous will finally be remembered. Their long desired expectation will finally come to fulfilment. God will remember them in his justice and meet all of their needs.
Verse 19&20: Arise, O Lord; let not man prevail: let the heathen be judged in thy sight. Put them in fear, O Lord:
That the nations may know themselves to be but men. After the psalmist had offered thanksgiving and shown the wonderful works of God's justice, he then calls on him to show his might to men. He demands that God should not allow the wicked have their way but that he should prove to them that they are but mere men. Having understood God's justice through this same, we can also call on him to do same on our behalf.
WHEN DO I NEED TO USE THIS PSALM?
Here are a few instances where you need to make use of this psalm.
When you need to acknowledge God for giving you Justice over your adversaries.
When you are being oppressed unjustly and you need God to vindicate you.
When your enemies come after you and you need God's refuge and protection.
When you feel forsaken even after you have put so much trust in God.
When you seek vengeance for the destruction or unfair death of a loved one.
When you desire his mercy in times of trouble.
PSALM 9 PRAYERS.
If you find yourself in a situation where you need to make use of this psalm, then here are some powerful psalm 9 prayers you should pray.
Lord I thank you because you always judge rightly and reward the cause of the wicked. I therefore ask that you judge as many as are against me and give me victory over them in Jesus name.
Father I seek your mercy over every trouble in my life, deliver me so that I can have the freedom to praise you at all times in Jesus name.
Lord I ask that you avenge me of all my adversaries and as many that are angry with me for no cause in Jesus name.
Arise Lord according to your word and do not let my enemies prevail over me, prove to them that you are my God and that they are but mere men in Jesus name.
Father just as you have told me in this psalm, let my enemies eat the fruit of their wickedness and let their plans be turned back to them in Jesus name.
Lord in due season remember me. Let my expectations not go unfulfiled in Jesus name.