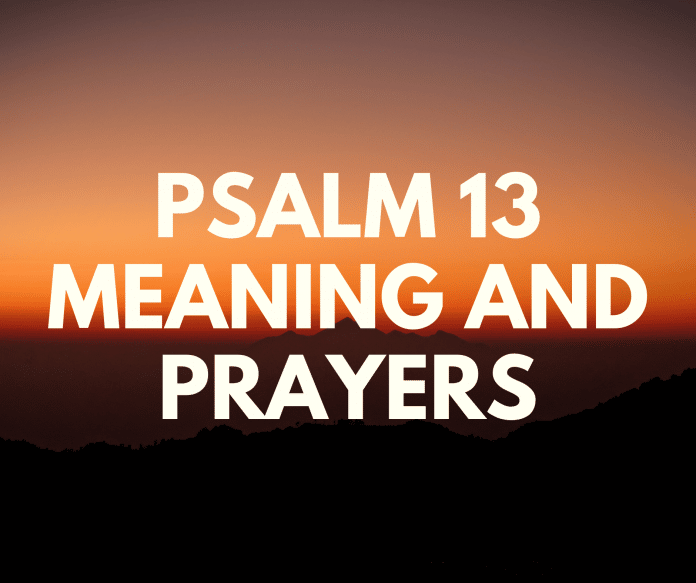 In today's study of the psalms, we will be looking at psalm 13 the message verse by verse. A very short psalm with a few verses. Psalm 13, the message verse by verse contains what seem like a lamentation unto God. The writer feels like God is distant from him; like God has forgotten him. He is in a state of trouble and discomfort and he wants God to help him and give him victory at the end of it all.
Psalm 13 is very needful for us, especially when we find ourselves in similar situation as the psalmist. Instead of panicking or losing faith, we can go in the strength of this psalm and pour our heart to God.
PSALM 13 MEANING VERSE BY VERSE.
Verse 1: How long wilt thou forget me, O lord? Forever? How long wilt thou hide thy face from me?.
This is a clear expression of a feeling of abandon. The psalmist seemed to have been expecting and hoping for God's presence and intervention. It's almost like he has waited and waited, but God was nowhere in sight. He felt abandoned, forsaken and rejected. This for sure is one of the worst feelings to have especially for us as believers. To think that God has hidden his face from us or have turned his back on us, only makes the situation worse and unbearable for us. In fact, we can almost give up if God does not immediately come to our rescue. This was exactly how the psalmist felt at the time he wrote this. He was however wise enough to still come to God's presence and pour out his heart, rather than losing faith. This is exactly what we should do too when we are in a troubling situation and we feel like God has forgotten us.
We must also take note that God does not truly forget us. He said in his word that he will never leave us not forsake us. He even says he will be our ever-present help in times of need. He is there with us even in the thickest of storms and he knows how to bring us out of it no matter how long it has lasted. We sometimes feel forgotten because we do not see things from God's perspective and our minds can't explain the situations, we are in. But when we begin to feel this way, just like the psalmist, the wise thing to do is to go to God in prayer.
Verse 2: How long shall I take counsel in my soul, having sorrow in my heart daily? How long shall mine enemy be exalted over me?
He continues to lament and pour out his heart to God here. His heart bears much pain: it is full of grief and sorrow. His enemies seem to be having an upper hand over him. They seem to have won the fight over his life and peace. Worse still this has been the case for a long time, and it is wearing him out already. He asks how long? Many times, we have found ourselves in similar situations where we have had to ask God how long. How long before I have my breakthrough? How long before I have my children? How long shall my enemies make mockery of me? Well, one thing we must know is that God listens when we ask, and he is always willing to answer us.
Verse 3: Consider and hear me, O Lord my God: lighten my eyes, lest I sleep the sleep of death.
He pleads God yet again to look upon him, to take away the darkness in his life, so that he doesn't begin to fall away. The problems in his life has produced fruits of darkness, such as confusion, pain and tears. It has gotten to a point where he is becoming weary and he is becoming less conscious of the spiritual activities taking place around him; a state which he refers to as the sleep of death. The quicker therefore that the Lord comes to his aid, the easier it is for him not to slip into a state of spiritual death.
Verse 4: Least mine enemy say, I have prevailed against him; and those that trouble me rejoice when I am moved.
This definitely would be the result if he sleeps the sleep of death. If he enters a state of spiritual weariness, unconsciousness or death. It gives the enemy an upper hand and it is definitely a good time for them to strike. This would definitely not be a good testimony in the mouth of a believer and God will always do anything to protect his name. The psalmist knew this and so he held God by it. If God didn't want his enemies to mock him in the life of his children, then he should come to their aid.
Verse 5: But I have trusted in thy mercy; my heart shall rejoice in thy salvation.
Truly, one of the easiest ways to come out of every tough situation and to feel at ease, is to trust God. It saves you the stress of trying to figure out how and when God will answer you. We can just like the psalmist trust in God's compassion and his ability to empathize with our faults and grievances. He holds nothing against us and he is ever willing to see us safe and peaceful, which is why we need to trust him completely. We should also rejoice and be thankful even before we begin to experience his help in our lives. This is because he will give us victory sooner than we think.
Verse 6: I will sing unto the Lord, because he hath dealt bountifully with me. How does one who had lamented about being forgotten begin to praise God for being good to him? Surely, he was celebrating what he knew was going to be his outcome. He knew for sure that God would help him and restore his peace and so he began to praise him for it.
WHEN DO I NEED TO USE THIS PSALM?
You will need this psalm when you find yourself in any of these situations:
When you feel like God has been distant from you and you can no longer feel his presence.
When you feel sorrowful and your heart feels weighty because of life's challenges.
When you begin to feel spiritual weariness and unconsciousness.
When you feel like your enemies are beginning to prevail over you.
PSALM 13 PRAYERS.
Father, I ask that you look upon me in your mercy, remember me and do not be far from me in Jesus name.
According to your word, lighten my eyes so that I will not sleep the sleep of death in Jesus name.
Father strengthen me and revive me to be conscious of all that is happening around me.
Heavenly father do not let my enemies prevail over my life. Deliver me and let them know that you are God over my life.
Oh Lord, you are my ever-present help in time of need, meet me lord at the point of my needs in Jesus name.
Father help me from those who are too strong for me in Jesus name.
Oh Lord, be my present help and fight my battles today in Jesus name.
Oh Lord, help me and deliver me from the arm of the mighty of this world in Jesus name.
Oh Lord, disappoint all those who say of me that there is no help for me in Jesus name.
Oh Lord, send help to me from the sanctuary and strengthen me out of Zion in Jesus name.
Oh Lord, I have no one here on earth that will help me.Help me for trouble is near. Deliver me so that my enemies will not cause me to weep in Jesus name.
Oh Lord, do not delay in helping me, send me help speedily and silent those who mock me in Jesus name.
Oh Lord! Do not hide your face from me at this trying period. Be merciful to me my God, arise and defend me in Jesus name.
Oh Lord, show me your loving kindness, raise helpers for me at this period of my life in Jesus name.
Oh Lord, a hope deferred makes the heart sick, there lord send me help before its too late for me in Jesus name.
Oh Lord! Take hold of shield and buckler and stand up for my help in Jesus name.
Oh Lord, help me and use me to help others in Jesus name.
Oh Lord, fight against those who are fighting against my destiny helpers today in Jesus name.
Oh Lord, because of the glory of your name, help me on this issue (mention it) in Jesus name.
Oh Lord, from today, I declare that I shall never lack help in Jesus name.