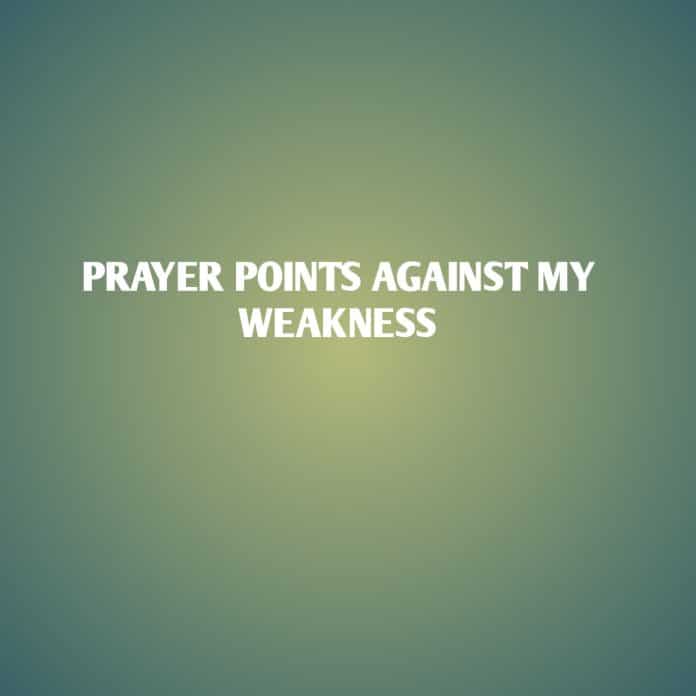 Today we will be dealing with prayer points against my weakness. This is an imperfection in the nature of man. It drags man to sin against God his creator. While we capitalise on our strength as humans, it is also important that we work on our weakness. King Solomon didn't work on his weakness that's why he still went ahead and marry from the nation God has warned him not to marry from.
Also, Judas Iscariot love for money overtook is sense of loyalty to Christ and he gave Christ away for money. Some people's weakness could be fornication and adultery, some could be love for money or flashy things. Our weakness could be anything. It is important that we pray to God to help us against our weakness. One of Apostle Peter's weakness is fear. This explains why he could not stand for Christ when he was asked by a little girl if he was one of Christ's stewards.
Reasons Why You Must Overcome Your Weakness
It Will Ruin You
King Solomon is highly promiscuous and he turned a blind and deaf ear to that weakness until he was destroyed by it. God has plans for everyone of us and that is why the enemy uses our weakness against us to ruin that which has destined for us.
Moses was prepared by God to be the deliverer of Isrealites. However, he had a weakness which is anger. Because he could not work on his anger, it hinder his chances of entering into the promise land.
It Hinders Our Personal Growth
Weakness causes a believer to have a retarded growth. Samson was called judge, God built him with enormous physical strength and power mainly to free the Isrealites from the oppression of the enemy.
Disobedience was highly prevalent in the life of Samson. The first mistake he made was marrying a woman from a nation where God has warned him not to marry from. He got married to Delilah and she necessitated his downfall.
It Hinders The Plans Of God For Our Life
The Isrealites were God's people and the promises that God has for their fathers Abraham, Isaac and Jacob was highly prevalent in their lives. God made move to free them from the captivity of the Egyptians so they can proceed to the land God has designed for them.
The Journey was meant to be forty days and nights, however, their disobedience to the instructions of God elongated the promise of God from coming to fulfillment.
How To Defeat Your Weakness
Identify Your Weakness
The first step towards defeating your weakness is the ability to identify the weakness. Once you identify what your weakness is, you can easily work on it.
It is quite difficult to defeat a weakness you have not identified. You must first identify that which is your weakness before you know how to defeat it.
Ask God For Help
The best way to defeat our weakness is seeking help from God. The scripture says by strength shall no man prevail. This means that our physical strength is not enough to help us defeat our weakness.
How that Apostle Paul was crying to God in the book of Romans 7:15 For what I am doing, I do not understand. For what I will to do, that I do not practice; but what I hate, that I do. God is able to help us out of our infirmities if only we will allow God work on us. Do not rely on your mortal knowledge or strength, call to God for help.
Through The Holy Spirit
The book of Romans 8:11 But if the Spirit of Him who raised Jesus from the dead dwells in you, He who raised Christ from the dead will also give life to your mortal bodies through His Spirit who dwells in you. This book of the lord makes us understand that if the spirit of Him that raised Christ from dead dwells in us, it will quicken our mortal body.
The spirit of God will help our mortal body to overcome sin.
Prayer Points:
Lord Jesus, I thank you for the grace you have given me to see a new day that you have made, Lord let your name be exalted in the name of Jesus.
Father Lord, I pray to you this day because of my weakness, I ask that you give me the strength to overcome it in the name of Jesus.
Lord Jesus, I ask by your mercy that you will not allow me to be defeated by my weakness. I pray that you help me in my moment of weakness in the name of Jesus.
Lord Jesus, I pray that you will help me identify my weakness. Give me the grace to know when the enemy is trying to use it against me. I pray that you will help my imperfections in the name of Jesus.
Lord Jesus, that I may you know you and the power of ressurection. I pray that you will fill me with the power of the holy spirit. The spirit of God that will quicken my mortal body, I ask that you give it to me in the name of Jesus.
Father Lord, I don't what to be ruined by this infirmity. I ask that you will help me in the name of Jesus. The same way to helped Apostle Paul overcome his weakness, I pray that you will help me in the name of Jesus.
The scripture says in the book of 2 Corinthians 12:9 And He said to me, "My grace is sufficient for you, for My strength is made perfect in weakness." Therefore most gladly I will rather boast in my infirmities, that the power of Christ may rest upon me. Lord let your strength be made perfect for me in the name of Jesus.
The spirit of the living God, come upon me mightily. I refuse to be a slave to my weakness. From today, I receive the power to begin to operate in larger capacity in the name of Jesus.