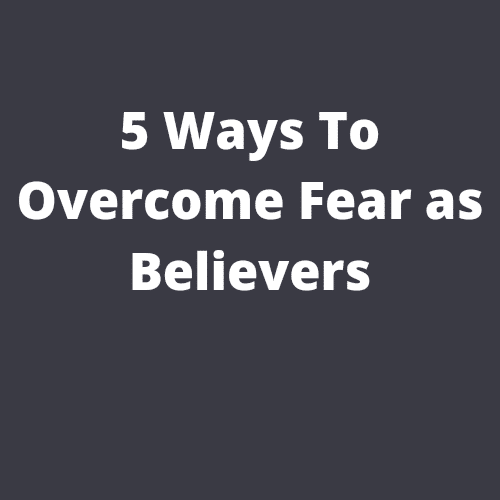 Today we will be dealing with 5 ways to overcome fear as believers. Fear is the presence of anxiety or curiosity created by the feeling of uncertainty. We all have our fears, there is no man born of woman that doesn't have fear. We fear so many things. Some people fear they will fail in life. At a very tender age, they have been laced with fear of failure. This fear sometimes becomes a fuel that engineer some into doing something great in life. However, the statistics of people who are positively influenced by their fears is nothing compared to those who were led into destruction by their fear.
Prophet Jonah was laced with fear after God sent him to preach. He was overwhelmed by his fears that he had to disobey God's instruction. He went another way because he was greatly troubled in his heart. So many lives and destinies have been destroyed on the altar of fear. It is important to know that fear doesn't travel alone, it comes with worry and anxiety. The presence of worry creates problem that doesn't exist in the first place. The scripture says in book of 2 Timothy 1:7 For God hath not given us the spirit of fear; but of power, and of love, and of a sound mind.
Before we proceed, let's quickly highlight some of the negative effects of fear in the life of a believer.
Negative Effects of Fear in Believer
The Enemy Becomes a Giant Predator
Fear makes you become a prey to the enemy. There are so many people whose lives have have been stopped by the enemy because of the spirit of fear. When you are laced with the spirit of fear, you would not know or find out that God has so many promises for you.
This makes the enemy become a predator. Anytime you try to find your way back to the cross, the enemy reminds you of your past and you become so scared that you don't even know what to do.
It Causes Restlessness
Have you ever seen a man or woman who is fearful and still calm? Any man whose life is disrupted by fear, such a man will always be on the run looking for solution. Meanwhile, such a man becomes vulnerable and can be easily misguided or misled into something more terrible than they fear.
Many people have forgotten their creator, they have forgotten that Christ has shed the blood on the cross of Calvary for the atonement of their sins. They begin to look for solution where it doesn't exist.
It Can Lead to Sudden Death
Fear is the biggest killer of men. It is so terrible that it can lead to blood pressure which will in turn take the life of such a person. Regardless of what you are going through, no matter how terrible the situation is, always have a strong faith.
5 Ways To Overcome Fear
Study The Word of God
One of the best ways to overcome fear as believers is by having the right information. Study the word of God to know about all the promises of God for your life. These promises will equip your mind and make you know that God is capable to solve every situation.
Remember the scripture says Numbers 23:19 God is not a man, that He should lie, Nor a son of man, that He should repent. Has He said, and will He not do? Or has He spoken, and will He not make it good? This means all the promises of God for your life will be fulfilled regardless of the situation you are going through. If God has promised that He will supply all your needs according to His riches in glory through Christ Jesus, you should trust God that he will do it.
Know and Trust God
Daniel 11:32 And such as do wickedly against the covenant shall he corrupt by flatteries: but the people that do know their God shall be strong, and do exploits.
The scripture says those that know their God shall be strong and they shall do exploit. It is not possible for one to know God and not trust Him. You must know God, and you must know that He is a rewarder of those that diligently seek Him.
Trusting God means you are casting all your care on God. You are letting go of all your worries, fear and anxiety because you have God. When the trouble of life comes raging at you, you will still trust God that He is great and powerful enough to save you. The scripture says who speaks and it comes to pass when God has not commanded. Who is threatening your life with death? Trust God. He has said you will not die but live to declare His works in the land of the living.
Pray in The Holy Ghost
One of the best ways to overcome your fear is by praying in the holy ghost. 1 Corinthians 14:4 He who speaks in a tongue edifies himself, but he who prophesies edifies the church. When you speak in tongues, we edify ourselves. We build ourselves in the realm of the spirit.
There are people who are scared of staying alone in the house because they fear attacks from the enemy. This is a way out of that fear. God has not given us the spirit of fear but of Sonship to cry Ahba father. When you are entering that house, put every demonic power under bondage by praying in the holy ghost. It builds you up to overcome fear.
Find Peace With God
Romans 8:31 What then shall we say to these things? If God is for us, who can be against us?
One of the reasons why the enemy truncate our lives with fear is because we are not at peace with our creator. The moment we make amends with God, the enemy can no longer have power over us. We can no longer fear what the enemy would do to us because we are in right standing with God.