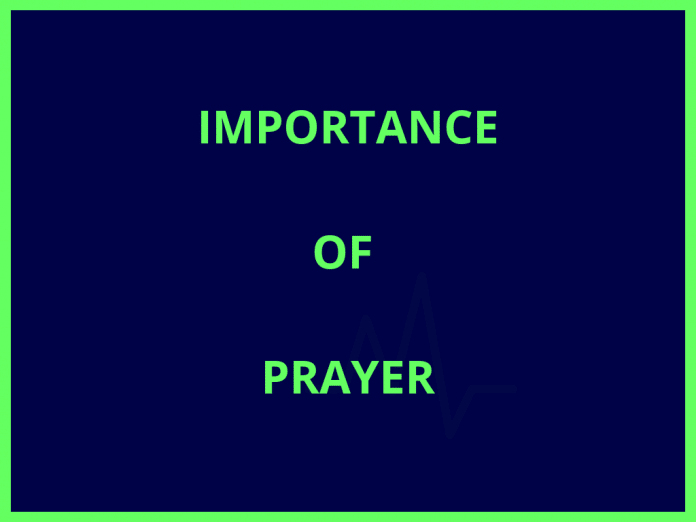 The importance of prayer in the life of any man is indispensable. There must be a consistent and unhindered communication flow between man and God. Else, the devil is near to strike. When the roof of a house is removed. It exposes the inhabitants of the house to harsh weather. Rain will affect them, the scorching sun will deal with them. As if that is not enough, harmful and life threatening creatures can find a way into their home. So also is the life of a prayer less Christian.
The Bible warned Christians in 1 Peter 5:8 Be sober, be vigilant; because your adversary the devil, as a roaring lion, walketh about, seeking whom he may devour. Our adversary rest not day and night, it goes about like an hungry beast looking for whom to devour. It is therefore important that as much as we life and breath, prayer should be an integral part of our lives. We would only be a great denial of reality if we say praying is very easy. Those who stayed in the place of prayer would understand that prayer is not like other recreational activities that we do. Funnily, the devil will do everything within it reach to push us out of the place of prayer. Because it understands that whenever we pray, we become a formidable force.
However, when we know the importance of prayer, it will help us stay put in the place of prayer. The importance of prayer is highly tremendous in our daily life.
Find below, we have compiled a list of 21 importance of prayer. We sure hope this will give us a sense of reasoning whenever we are discouraged to pray.
1. PRAYER LAUNCHS US INTO THE THRONE OF MERCY
The scripture says and now there is no condemnation for those who are in Christ Jesus. Romans 8:1 There is therefore now no condemnation to them which are in Christ Jesus, who walk not after the flesh, but after the Spirit. We thirst after the things of the spirit through our prayers.
The book of Hebrews 4: 16, Let us therefore come forward with boldness to the throne of grace that we may receive mercy and find grace for timely help. The only means through which we can enter into the throne of God is via our prayers.
2. WE RECEIVE REVELATIONS
God is not an author of confusion. The empire of Christian that God wants us to build is not the one that will always run to pastors or prophet for revelations. God wants to speak to you too. The relationship God built with man is like Father to son.  A quick journey into the scripture, Daniel fasted and prayed when he learned about the prophecy of Jeremiah that Jerusalem will be in desolate for seventh years. Daniel 9:3 And I set my face unto the Lord God, to seek by prayer and supplications, with fasting, and sackcloth, and ashes. Because of Daniel's prayer, God gave him a revelation that went in line with the prophecy of Jeremiah. The best time a man can tap hear from God is during the time of prayer. God is not a talkative, but He speaks all the time. We get to receive revelations from God in the place of prayer. So it is important that we pray all the time.
3. DESTROYS WORRY AND FEAR
There is this feeling you get when you just prayed to God about a situation. We get this inner satisfaction that our issue has been reported to the court of heaven. The Bible says that he has not given us the spirit of fear. 2 Timothy 1:7 For God hath not given us the spirit of fear; but of power, and of love, and of a sound mind. We get inner strength to face any situation after we have prayed. We have an assurance that everything will be alright.
4. BREAKTHROUGH
There is a saying that, you conquer your problem by becoming a problem to it. The more we pray about a particular thing, the more we move closer to manifestation. James 5:16 Confess your faults one to another, and pray one for another, that ye may be healed. The effectual fervent prayer of a righteous man availeth much. Our effectual prayer will always prevail over any situation or challenges. Another importance of prayer is breakthrough. Even when you are weary or tired of praying. When you remember this intricate importance of why you need to pray, you will definitely pray. Prayer deliver us from life problems and challenges that we may face. It gives us victory over them.
5. OVERCOME TEMPTATION
Temptation is an inevitable part of our Christian Life. Even Christ was heavily tempted by the devil. So, who are we to escape the temptations of the devil.
If you ask me, one thing that made Christ triumph over the temptations of the devil was the fact that he had fasted and prayed well. St. Matthew 4:2 And when he had fasted forty days and forty nights, he was afterward an hungred. St. Matthew 4:3 And when the tempter came to him, he said, If thou be the Son of God, command that these stones be made bread.
However, Christ was filled with the holy after praying tirelessly for forty days. He was able to overcome the devil. We as Christians too, our prayer build up our capacity to identify the temptations of the enemy. The scripture warned that we should not be ignorant of the devil's devices. Prayer therefore become an important aspect of our lives to overcome temptations.
6. PRAYER PROTECTS US FROM EVIL
How many people knows that prayer protect us from evil occurrences? Our prayers is not just a session of noise making to an unseen god. The God in whom we pray to surely answers prayers.  Little wonder the scripture Psalms 34:15 The eyes of the LORD are upon the righteous, and his ears are open unto their prayer. When the eyes of God is upon a man, no evil can befall such individual. There are some of us who have fell victim of a terrible accident that claimed the lives of many. But we left unhurt. That is nothing short of a miracle.
7. PRAYER HELPS US FULFILL GOD'S PURPOSE FOR OUR LIFE
Despite the fact that man have eyes, yet he can not see beyond the physical. Many people fail purpose in life because their life lacks direction. There have been so many prophecies about many of us. Prophecy that we will be great, we will be successful. Yet, we still suffer to do things that others do effortlessly. The story of Jacob is a perfect example. Jacob was supposed to be great. However, that prophecy did not come to play. Until he had an encounter with an Angel all night. The book of Psalms 25:14 The secret of the LORD is with them that fear him; and he will shew them his covenant. God reveals the direction of our lives to us in the place of prayer. A prayerful man will not lack direction in life.
8. PRAYER GIVES US THE WISDOM OF GOD
It takes the grace of God to know how to attend to situations. Giving the appropriate responses to issues take the wisdom of God.
When we pray about an issue, God gives us the wisdom to give reply to issue. There are replies that can spur war amongst people, and there are replies that calm the tension of situation. The scripture says Wisdom is of God. When we pray, God grant wisdom to deal with any situation.
9. PRAYER INCREASES OUR LONGITIVITY
You might be wondering how true this claim is. When there is peace of mind and satisfaction, it increases the lifespan of a man. There is a satisfaction that comes from the heart when we pray. Serenity is a luxury too much to ask for in some places. But when a man prays, we get a serene mind, a peaceful heart. Even in times of war, we feel safe and at peace with everyone.
 10. Prayer Brings Healing
We often turn to the medical practitioner whenever we are down with sickness. There are some sickness that puts a medical practitioner to shame. In the world of science, there are things that science doesn't have answers to.
However, in the realm of the supernatural, there is an answer to every questions asked. What may seem difficult in the sight of medical team is easy in the place of prayer. The Bible made us understand that God is the greatest physician. Our healing is in the hands of Jehovah, prayer birth it out with force.
11.BRING US TO ALIGNMENT WITH GOD
The scripture says the hands of God is not to short to save us, neither is His ear too heavy that he cannot hear us. But our sin as caused a gap between man and God. Often times, when we pray, we have this confidence that God has forgiven us. Through prayer, we come to terms with God. We settle all our differences witg God in place of prayer.
12. VICTORY OVER THE WORKS OF DEVIL
When life hits us hard with tribulations. We must understand that Christ has conquered already. But, we need to come into the consciousness that we have overcame thought Christ Jesus.
Remember that in the book of Revelation 12:11 And they overcame him by the blood of the Lamb, and by the word of their testimony; and they loved not their lives unto the death. The blood of Christ has been shed already, but our testimony is done through prayers. We confess with our mouth that we are victorious, no chain of the devil can hold us down.
13. PRAYER MAKES US UNTOUCHABLE
A prayerful Christian will become like a fire. This doesn't mean that there will be no trouble. But, a pillar of fire mount around the edges of a prayerful Christian. Even to the point that sickness will see such person and flee.
There are so many people in the world that the devil have successfully defeated. Many Christians have lost their salvation because they could not pray. The efficacy of prayer doesn't only show when we are faced with problems. Even when things are going on fine, we must understand that prayer is working.
The devil will not be able to come near a prayerful man. Because there will be no weakness around a prayerful man.
15. PRAYER OPEN DOORS OF OPPORTUNITY
In life, there is nothing called luck. What we call luck is a thorough preparation that meets a little opportunity. Have you ever wondered why some people will just get to a certain place and excel? You never wonder why some people will effortlessly do things that others are struggling with?.
It is worthy of note that champions is not made in the ring. Whatever thing that a man exhibit in the physical, it must have been settled in the realm of the spirit. Prayers open a door of opportunity for people, it breaks the natural protocol of man.
16. PRAYER BREAKS THE YOKE OF CURSE
The prayer of Jabez in 1 Chronicles 4:10 And Jabez called on the God of Israel, saying, Oh that thou wouldest bless me indeed, and enlarge my coast, and that thine hand might be with me, and that thou wouldest keep me from evil, that it may not grieve me! And God granted him that which he requested.
When a man is faced with ancestral curse or yoke. It takes prayer to break such yoke. Maybe there is a uniform battle that they face in particular community, the power in the name of Jesus can break such yoke. The blood of Christ is the annointing that has been shed for us. And the scripture says that by the annointing every yoke shall be destroyed.
17. PRAYER CAN CHANGE THE WRATH OF GOD
Similar to the story of Sodom and Gomorrah. Abraham prayed to God and beg Him not to destroy the entire city of Sodom because of his kinsman Lot and his family. We all know that the word of God is powerful and it won't go void. Whatever God purpose in his heart to do, so will He do.
However, there are quite a number of times in the scripture that changed His decision because of the prayer of men. When King Hezekiah could have died on his sick bay, God healed him because he prayed for Mercy. God decided to spare Lot because Abraham had prayed to God for mercy. Often times that we think the vengeance of God is upon us because of our bad act. All we need to do is take it to him in prayer.
18. CONSISTENT PRAYER TURN US INTO GOD'S FRIEND
The essence of our existence is to have koinonia with God. Before the fall of man, God will descend during the cool of the evening to have a chat with Adam in the garden. However, after the fall, the spirit of God went farther from man.
However, when Christ came, he gave us the channel back to God through the holy spirit. When we pray, we bring the spirit of God nearer unto us. How that Abraham prayed to an extent that God had no choice than to call Abraham His friend. Our consistent prayed turn us into the friend of God. We all know the importance of being friend with God.
19. OUR PRAYERS CAN CAUSE OUR ENEMY TO BE AT PEACE WITH US
Every mortal man is of two face, the spiritual and the physical. While our enemy most deal with us physical. What we fail to understand is that these people have a spiritual face too. And the spiritual controls the physical.
While he/she is busy doing us a great deal in the physical, we can change his/her person right from the spiritual realm. Our prayer can cause such a person to immediately be at peace with us. When Esau vowed that the day he sees Jacob, he will kill him. Before then, Jacob had cried to the holy one of Israel. When Esau met Jacob, he had no choice than to forgive him and be at peace with him.
20. PRAYER BREAKS THE PROTOCOL OF MAN
Remember the story of Esther? No one goes to the king's chamber without an invite. Esther did it and triumph. That protocol didn't just break like that. Esther had tarried in the place of prayer.
Most times we hear things like your qualifications is not enough, a black man can not attain this height. Those are just mere protocol made by man. Effective prayer will destroy such protocols. And you will gain access like there was no rule.
21. PRAYER IS OMNIPOTENT
What does omnipotent means? It means something that cure all things. Never you underestimate the potency of prayer. It is capable of bringing solution to any problem in life.
Without much Ado, knowing the importances of prayer should help us increase the time we spend praying. This list should be of great help. Just check for that which you need and start praying. Even when it seems answer is delayed, still tarry in place of prayer. When it looks like you are praying but no one is listening, still tarry. Or probably you feel that you are praying under a closed heaven, still, never stop praying. Always know that, if there is a man to pray, there is a God who answers prayer.