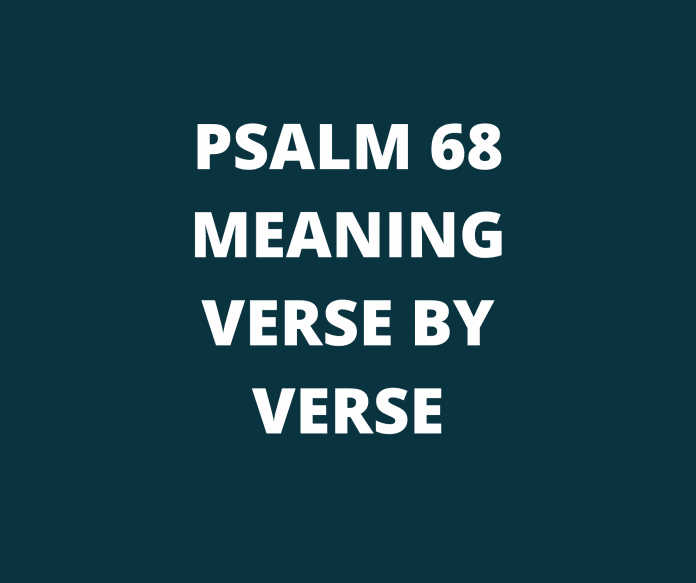 In today's study of psalms, we will be looking at psalm 68 the message verse by verse. Psalm 68 the message verse by verse is largely a psalm of praises to God. It was written by the psalmist to acknowledge the mighty power of God; his great authority over all things and all men. It is a rendition that will cause all men to appreciate the greatness of his power as well as cause proud and boastful men to bow in awe. It is also seen as a song of triumph over God's enemies. Bible Scholars are of the opinion that the psalm was written by David at the time that the ark of covenant was returned to the land of Israel.
Psalm 68 is also a call to God to show forth his power against his enemies. We see this in the first two verses of the passage. The psalmist understood how powerful God is and because of it declares his praises. By that knowledge also he desires that God will display his power to those that seek to exalt themselves above him. As we go through each verse of the psalms, we will begin to see and understand how great our God is as well as understand the love he has for his people.
PSALM 68 MEANING VERSE BY VERSE.
Verse 1&2: Let God arise, let his enemies be scattered: let them also that hate him flee before him. As smoke is driven away, so drive them away: as wax melteth before the fire, so let the wicked perish at the presence of God.
This is a call for God to display his power against his enemies. He wants them to melt like wax before God and perish. The enemies of God are all those who go against his word and those who come against his people. We see this evident in our lives as believers, our adversary- God's enemy seeks day and night to destroy our lives. This is why God needs to arise on our behalf and destroy them.
Verse 3&4: But let the righteous be glad; let them rejoice before God: yeah let them exceedingly rejoice. Sing unto God, sing praises to his name: extol him that rideth upon the heavens by his name JAH, and rejoice before him.
In contrast to what God will do to his enemies, the psalmist asks God to fill all those who are just will gladness. He wants him to cause the to rejoice, praising him and exalting him as Jehovah.
Verse 5&6: A father of the fatherless, and a judge of the widows, is God in his holy habitation. God setter the solitary in families: he bringeth out those who are bound with chains: but the rebellious dwell in a dry land.
Here God is acknowledged as father to the fatherless and the backbone of widows. He is the one who give those who do not have families a family to call their own. He gives freedom to those who are in prison, but those who rebel against him he will cause great discomfort.
Verse 7&8: O God when thou wentest forth before thy people, when thou didst march through the wilderness; selah: The earth shook, the heavens also dropped at the presence of God: even Sinia itself was moved at the presence of God, the God of Israel.
Here the psalmist recounts how God brought his people out of the wilderness, leading them into Canaan. He was to them a pillar of cloud by day and a pillar of fire by night. The heavens and the earth shook at his apperaing even as he led his children to their place of promise.
Verse 9&10: Thou o God didst send a plentiful rain, whereby thou didst confirm thine inheritance, when it was weary. Thy congregation hath dwelt therein: thou, o God, hast prepared of thy goodness for the poor.
To prove that he has given them the land for an inheritance, God sent bountiful rain upon the land to make it fruitful. He blessed them with his goodness, a land of milk and honey he made it to be and caused his children to dwell there.
Verse 11&12: The lord gave the word: great was the company of those that published it. Kings of armies did flee apace and she that tarried at home divided the spoil.
God went before them speaking and confirming his word over them. Everyone in zion, the men and the women alike proclaimed this word to all. Then, kings began to rise against them and their kingdoms with them, but God rose against them and they fled, leaving their spoils for the women of zion to possess.
Verse 13&14:Though ye have lien among the pots, yet shall ye be as the wings of a dove covered with silver, and her feathers with yellow gold. When the almighty scattered kings in it, it was white as snow in Salmon.
The psalmist describes the children of Israel as ordinary sheeps seeming less important. But God uses his wings to cover and protect them in their humble state. He chose Kings for himself and decorated them making them as white as the snow.
Verse 15&16: The hill of God is as the hill of Bashan; an high hill as the hill of Bashan. Why leap ye, ye high hills? This is the hill which God desire to to dwell in; yea, the Lord will dwell in it forever.
The hill of Bashan according to history is a great mountain, one if the mountains of God. But here we see that same mountain not to leap for God has chosen another. This describes God's choice of Zion over others, his people over other nations. Though others may envy, yet it doesn't change the fact that God has chosen Zion over them.
Verse 17&18: The chariots of God are twenty thousand; even thousands of angels: the lord is among them, as in Sinai in the holy place. Thou hast ascended on high, thou hast led captivity captive: thou hast received gifts for men; yea for the rebellious also, that the lord God might dwell among them.
This also speaks of the multitude of God's own people, how mighty they had become and how God dwells among them. God had made provision for them to have him in his fulness and therefore he gave them measure of gifts from himself. The second verse also speaks of the work Christ would do when he came to die. How he would ascend to the heavens after death, to receive spiritual gifts for men; both those who were righteous and those who were rebellious.
Verse 19&20: Blessed be the lord, who daily loadeth us with benefits, even the God of our salvation. He that is our God is the God of salvation; and until God the lord the lord belong the issues of death.
The psalmist praises God yet again. He praises him for the goodness he shows to us daily. He praises him for how he always saves us even from the hands of death.
Verse 21&22: But God shall wound the head of his enemies, and the hairy scalp of such an one as goeth on still in his trespasses. The lord said, I will bring again from Bashan, I will bring my people again from the depths of the sea.
God doesn't just save us but he would also crush the head of our enemies especially those of them who refuse to repent. He will call them out of their hiding place and ensure that they are all destroyed. Then he will call out his own people and restore them even from the far ends of the sea.
Verse 23&24: That thy foot may be dipped in the blood of thine enemies, and the tongue of thy dogs in the same. They have seen thy goings, O God even the goings of my God, my king, in the sanctuary.
God will ensure that the heads of our enemies are crushed under our feet such that our feet will be 'dipped in blood'. And after conquering them, God will move in majestic procession before them. This speaks of the return of the ark of the covenant back to Israel. The ark represented the temple and God was in it, they moved it majestically back into where it had previously been kept.
Verse 25&26: The singers went before, the players on instruments followed after; among them were the damsels playing with timbrels. Bless ye God in the congregations, even the lord, from the fountain of Israel.
As they moved with the ark, they sang praises to God and played instruments with it. The ark was a proof that God was with them and losing it was quite a plight for them. But now that they had it back, they rejoiced because the presence of God had been restored to them once again.
Verse 27&28: There is little Benjamin with their ruler, the princes of Judah and their council, the princes of Zebulun and the princes of Naphtali. Thy God hath commanded thy strength: strengthen, o God, that which they hast wrought for us.
This was the order of the procession as they marched with the ark. Benjamin, though, the youngest but highly favoured of God led the way. Then, Judah, Zebulun and Naphtali. The next verse was a call for God to show his strength to the people like he had always done. The strength with which he gave them victory and resorts them.
Verse 29&30: Because of thy temple at Jerusalem shall kings bring presents unto thee. Rebuke the company of spearmen, the multitude of the bulls, with the calves if the people, till every one submit himself with pieces of silver: scatter thou the people that delight in war.
Kings will also bring presents to his temple in Jerusalem, kings from all over the place. All they that raise themselves above God and those who for the love of money make themselves like God will be rebuked by him.
Verse 31&32: Princes shall come out of Egypt; Ethiopia shall soon stretch out their hands unto God. Sing unto God ye kingdoms of the earth: O sing praises unto the Lord; Selah.
Because of the might and authority of God, kingdoms from all parts of the world including Africa shall come bowing in reference and submission to God. The psalmist therefore calls us out once again to praise God. Every kingdom, every nation should praise him in the power of his might.
Verse 33&34: To him that rideth upon the heavens of heavens, which were of old; lo he doth send out his voice, and that a mighty voice. Ascribe ye strength unto God: his excellency is over Israel, and his strength is in the clouds.
A call to praise once again. The psalmist calls for all to praise God for his strength and power. He that dwells in the heavens of heavens and whose voice sends a shaking even to the ends of the earth. The God of his own people; the lord God over Israel.
Verse 35: O God, thou art terrible out of the holy places: the God of Israel is he that giveth strength and power unto his people. Blessed be God.
Praise the God whose mere presence sends awe and holy fear down our spine. The one who strengthens his people with his own strength and mighty power.
WHEN DO I NEED TO USE THIS PSALM?
Here are a few situations where you should use this psalm.
When you want God to arise in revenge over his enemies; the troubles of your life.
When you need to appreciate God for his might and authority over your life.
When you want God to give you victory over your enemies.
When you want to recount all that God has some for you as well as his people in the past.
PSALM 68 PRAYERS.
Lord, arise according to your word and let all your enemies: all the enemies of my life be scattered in Jesus name.
Father, I ask that you give me victory over my enemies, let them be crushed beneath my feet and their blood under my feet name.
Lord, I thank you for how you restored your presence to your own people in time past and how they sang before you, thank you because you are still God and you will do the same on my behalf in Jesus name.
As smoke is driven away and was melt before God's presence, so let my enemies melt before me in Jesus name.
God of restoration restore my glory, in the name of Jesus.
As darkness gives up before light, O Lord, let all my problems give up before me, in the name of Jesus.
Thou power of God, destroy every trouble in my life, in Jesus' name.
O God, arise and attack every lack in my life, in the name of Jesus.
Thou power of liberty and dignity, manifest in my life, in the name of Jesus.
Every chapter of sorrow and slavery in my life, close forever, in the name of Jesus.
Thou power of God, usher me out of the balcony of disgrace by fire, in the name of Jesus.
Every obstacle in my life, give way to miracles, in Jesus' name.
Every frustration in my life, become a bridge to my miracles, in the name of Jesus.
Every enemy, exploring devastating strategies against my progress in life, be disgraced, in the name of Jesus.
Every residential permit for me to stay in the valley of defeat, be revoked, in the name of Jesus.
I prophesy that bitter life shall not be my portion; better life shall be my testimony, in the name of Jesus.
Every habitation of cruelty, fashioned against my destiny, become desolate, in the name of Jesus.
All my trials become gateways to my promotions, in the name of Jesus.
You anger of God, write the obituary of all my oppressors, in the name of Jesus.
O Lord, let Your presence begin a glorious story in my life.