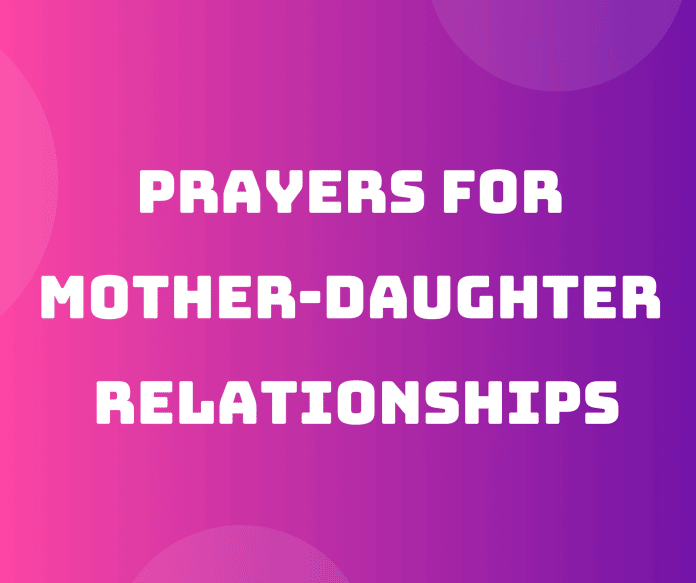 A mother-daughter relationship is essential because, from birth, a mother takes on the responsibility of caring, cooking, and generally looking after their daughter into womanhood. The simple definition of a mother is one who can show unconditional love, giving their full support or being a caregiver, in turn helping their daughter progress and develop throughout their life into womanhood. A mother-daughter relationship is essential according to the Word of God because a mother helps their daughter to walk in the truth. "I have no greater joy than this, to hear of my children walking in the truth" (3 John 1:4).
A mother's prayer is, therefore, to speak words of wisdom and kindness over their daughters (Proverbs 31:26). Praying over your daughter will cause them to honour and respect you as their mother. Children are commanded to honour their parents/guardians so that they may live to see long days (Deuteronomy 5:16). Being able to understand the purpose of a mother's prayer for her daughter will enable you to pray persistently and effectively in your Christian walk.
A mother's prayer for her daughter helps because children are always under attack from worldly pleasures, the enemy, and the flesh. Therefore, being aware that your daughter is under attack should encourage persistent prayer. A mother's prayer for her daughter helps because no one can pray for your daughter as you can. This is because you know your daughter intimately, and a mother can discern their weaknesses, struggles, and hurts. Knowing why you should pray for your children, and also the importance of a mother-daughter relationship will also allow you to develop a deeper relationship with God. Praying for your children and family always will help you achieve a higher level of self-discipline in praying for others, even if they are not family. However, the mother-daughter relationship can become unhealthy, most notably when the daughter is reaching puberty age.
For unhealthy mother-daughter relationships, I think, before tackling these issues, you should find time to sit and just communicate with your daughter, try to see life again from her point of view, so that you can get through to her. A lot of mothers are so hard on their daughters, and these hardness further takes them faraway from their daughters. It is only a correction that is born out of love that can get to the heart. My prayer for every mother reading this article is that you receive the wisdom of God to handle your daughters in Jesus Christ name. However, below is some Powerful Prayer for you if you have a strained mother-daughter relationship.
PRAYERS
Father, I bless your name. Thank you for my wonderful daughter. I pray that you would walk with her always. May her eyes always be drawn to the things of your kingdom. Guard her heart, oh God, that she would not follow it unto distraction.
Dear God, you know all things and can do all things, I pray Lord that you grant I and my daughter a forgiving heart.
I pray Lord that you renew your spirit within us and create in us a new heart that forgives easily.
Dear Jesus, help my daughter, and I know that we are all born as sinners and separated from God because of our wicked hearts. However, at an early age, help my daughter grasp the life-transforming concept, so she does not have to live as a sinner under that condemnation.
You are the God of Love. I pray that you put unconditional love between my daughter and me that we may love each other deeply
Lord, I pray that you grant me the wisdom to be able to support and guide my daughter in your way.
Dear God, I pray your word to be genuinely hidden in her heart. Let it be a lamp unto her feet and a light on her path. May she live by every confession that comes from her mouth. Let your word never depart from her lips. Guide her to live in your will. She will not dwell in sin! In Jesus' name. 1 Corinthians 15:33
Dear Lord, you are the prince of peace, let your spirit restore order to the strained relationship between my daughter and me.
Teach my daughter that she has the opportunity to accept a new, beautiful identity that is called good, not because of what she has done, but because she is secure in who You say she is treasured, delightful, known and protected.
Dear God, I pray that you heal the hurt we have caused one another and bring back the love a motherand daughter should feel for one another.
Lord, I come before you and ask for forgiveness and healing in my relationship with my daughter. Lord, please heal our hearts and help us to understand instead of fight and argue. Help us to love one another and follow the path you have put before us.
God, I pray that you please bring my daughter back to me. Please let our relationship be healed and whole again. Please end this broken relationship and make a new beginning start so that there are peace and love between us.
Lord, Please take away the hurt from us both and let my daughter want me as her mother again. Please bring her back and make my family be restored stronger and whole again.
Lord, I Pray through your spirit, Let our broken hearts be healed and take away her anger for me and the troubles in her mind in Jesus Name
Lord, I pray, my daughter finds comfort in Your ability, God, I pray you to reach out to her, hold her and rescue her (2 Samuel 22:17-18).
Lord, I pray you Let her find confidence in You, even when hard times come, and she doesn't know what to do, help her keep her eyes fixed on You (2 Chronicles 20:12).
Dear God, I pray you to let my daughter keep herself under control and not give full vent to people and situations that anger her (Proverbs 29:11). Let her walk in the security of Your assigned worth to her in Jesus Name.
Lord, I pray for Your spiritual, physical and emotion defence over my daughter. Help her to known that you are her refuge and strength in times of difficulties.
O Lord, Protect her mind from evil conversations and grant her the spirit of discernment. Father, help her to hear your voice clearly and that she will hear nothing but truth.
Lord help her to realize that safety can only be found in You and no-one else. So, thank you Father for your love, strength and protection over my daughter in Jesus Name. Amen.